Carol Black on 'Women, Science, Careers and Leadership' for the LMS's inaugural Athena SWAN lecture, October 2016. Bonnie Greer on an inclusive society at the Royal Society's Annual Diversity Conference, also October 2016.

Women must learn to love risk to excel in science
By Susan Watts
Take a risk, is the advice of professor Dame Carol Black for young women seeking a career in science or medicine. Scientists at the MRC's Clinical Sciences Centre (LMS) invited Professor Black to deliver the institute's inaugural Athena SWAN lecture, and her message was simple – nothing ventured, nothing gained.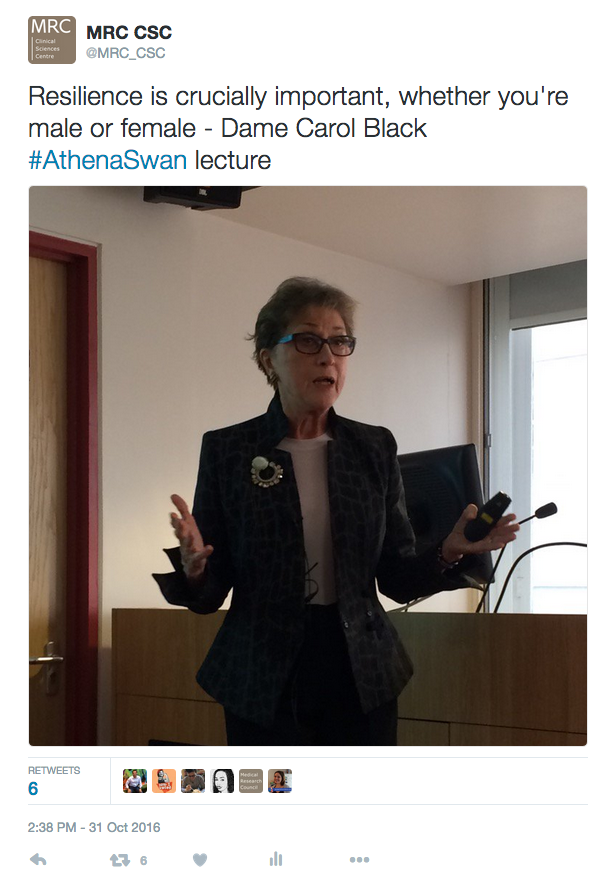 Professor Black is principal of Newnham College at the University of Cambridge and adviser on health and work to NHS England and Public Health England. She has had a distinguished career. She is a past-President of the Royal College of Physicians, the Academy of Medical Royal Colleges, the British Lung Foundation, and past-Chair of the Nuffield Trust. The Centre she established at the Royal Free Hospital in London is internationally renowned for research and treatment of connective tissue diseases such as scleroderma. In November 2011 she was asked to co-chair an independent review of sickness absence in Britain for the UK Government.
Yet at school, she told her audience, she was "a slow developer, always rather too shy to put my name forward. I always thought I couldn't do anything. Once I'd found medicine I was really passionate about it and if you are passionate about your career that shows through."
She said she was glad to see so many men in the room, as it will take shifts in behaviour and expectations by both men and women to make a difference. She stressed the importance of resilience in making headway. "Try to fulfil your aspirations. I wouldn't like to tell you how many jobs I haven't got, or things I've gone for which I didn't get. I know what failure feels like, and it's jolly painful but I think despite that you have to wipe yourself down and start again. Resilience is crucially important if you're male or female, and I worry that in our schools we're knocking that out of our younger people."
She described how some progress had been made in improving the statistics on representation of women in STEM (Science, Technology, Engineering and Medicine) subjects, but far from enough, with women filling just 13 per cent of the UK's STEM jobs and just 17 of STEM professorships. She drew on statistics from the University of Cambridge showing how some subjects remain male-dominated, with computer science 97 per cent male and engineering at 76 per cent.

Professor Black said that in examinations, more men gain First class degrees at the university than women, especially in maths and in natural sciences, despite attending the same lectures and supervisions and in many subjects arriving at the University with similar achievements at school. "Interestingly our men get more Thirds, but they also get more Firsts, so you do wonder whether when they go to the final exam do they take more risks than the women who play it safe when writing their essays."
Women do better in terms of numbers gaining Upper Second class degrees, she said, though this too concerns her. "When I talk to the women at Newnham, there are a lot of women who could get a First but they say 'I'd be content with a 2:1' as if they really don't need to really put themselves in the place where they just might fail. They say 'I know I can get a 2:1, and that's good enough', and I worry about that."
She believes the low figures on women in STEM subjects also creates a bottleneck in getting women into entrepreneurship, and lamented the lack of role models in subjects such as coding that young girls and women might aspire to emulate, and gave her support to the view that this is not a genetic issue, but a cultural one.
She also suspects that by university or even school age, it may be too late to make a difference, since early influences can be so strong. Parents need to be equipped to give equal support to their daughters and their sons in pursuing STEM subjects, she said.
Do women worry more about making mistakes? Are they less able to take risks? She asked, and quoted reports that have concluded taking risks, and maybe not succeeding, is important in developing resilience and confidence. "Boys, it's said, tend to absorb more scolding and punishment, but learn more to take failure in their stride, and wipe themselves down and get going again."
It's a pattern that she feels rings true for her. "I passed the 11-plus, went to grammar school in Market Bosworth – where the Battle of Bosworth was fought. I had very little confidence. I was truly fat. I didn't feel as good as many of the city students, but did end up as Head Girl, so something good happened during those years. All my relatives either worked in factories or, if they were lucky, in a shop. I didn't have much aspiration, only the aspiration to become a domestic science teacher."

She described how she found medicine only after several false starts, confessing that she decided on history A Level "because I had a crush on the history master", read history at university and hated it (the history teacher later married the domestic science teacher; 'a dreadful shock', she said).
She then described her 'Cicely Saunders moment' (Cicely Saunders founded the hospice movement), who also found medicine after first reading history. "She said to me 'I'll try to convince you not to do it because it will be tough, but if I can't convince you not to, you better go off and do it.' By the time I had had supper with her I knew I was going to do medicine.
"I do recommend all of you in the room, particularly the women, to take risks. I thought I couldn't do it. I didn't dare apply. I played safe and at that stage applied only for a diploma in medical social work. Soon, however, she was "well on the road to risk", describing how she eventually self-funded her medical training and became a successful rheumatologist.
On the whole, men don't doubt themselves as much as women do, she said. She advised women not to allow constant striving to be perfect to stand in their way, and to believe in their own abilities. "I came from a background where everyone expected me to go back to my industrial village where I grew up – that was my dugout canoe. None of my relatives had ever been to grammar school never mind university, and the only possibilities were just around me in this village.
"A particular teacher made me see that I didn't have to stay with dugout canoes there was a ship out there and I could go and find it I could aim higher. I truly would have missed so much because I really found a career I wanted. In summary, I didn't want to be a 'what if' person and at the end of my life think 'what if' I'd never quite happened.
"Whatever your ship is, it doesn't matter, you really need to go and find it. As long as you think you'll be confined then you will be, you will never seriously feel the wind blow. I failed lots of things and I'm still standing and enjoying life today."
You can see Carol Black's slides for her talk at the LMS here. In February 2016, she appeared on BBC Radio's Desert Island Discs.
Diversity Matters: The Road to Inclusivity

By Almut Caspary
Author and playwright Bonnie Greer may not be the obvious choice for a keynote speech at a conference that looks at diversity and the road to inclusion in science. Yet when the Royal Society's diversity committee discussed their wish list for keynote speaker at their 2016 conference "Diversity matters – the road to inclusivity", she came top. As Chancellor of Kingston University, Greer is known for her fight for equal access to education and inclusivity. In public, her voice stands out for her "fierce intelligence, clarity and wit" as Uta Frith, chair of the diversity committee, put it in her introduction to this year's keynote address.
And the address gave the audience a taster of all three – intelligence, clarity, and wit. Above all, for me, I began to understand more of Greer's view that the strength of our societies – perhaps even the survival of our civilisation – depends on including each and every one of us, with all our differences of education, gender, class, language, ethnicity and so on.
As a girl, Greer said she asked 'what if' questions, loved triangles and was looking for patterns, yet she wasn't encouraged to go into science or maths in 1960s New York. And this went straight to the heart of her talk: if we don't encourage children from all sorts of backgrounds to access all disciplines, educational institutions and areas of work, we're missing out on what they may bring to our societies and the problems we face.
"We need to think of all the kids out there who might be flipping hamburgers, who might be polishing cars, who might be told 'you don't speak English so you're not coming here', who might be Einstein – not that I was – we don't know! And we gotta know. We have to know. Because our civilisation depends on it."
Why does our civilisation depend on including everyone? Greer went on to explain the benefits of diversity with a 'what if' experiment. "What if you put five children and say they can kind of do the same things, say they're good at maths. (…) Maybe they are of different ethnicity, different income levels, different backgrounds, different gender, language, and you give them a puzzle to solve. What will happen? That's what interests me. It's not the solving of the puzzle but the strategies they use to solve the puzzle. These different strategies are the benefits of diversity. Strategies. Diversity expands human capacity. That is its purpose. And that to me is common sense."
Her point is that our individual differences lead to different strategies with which we approach the problems our societies face, which we as a civilization face. Taken together, such differences make for richer strategies and ultimately for better problem solving, she argues. In a movement that connects us, inclusivity unites us and allows us to bring all of our strategies to the table.
Listen to Bonnie Greer's keynote address in full.
Listen to the 2016 Royal Society Diversity Conference in full.