Chain Florey Clinical Research Symposium
Celebrating 10 years of the Chain-Florey Clinical Research scheme through a clinical research symposium on 21 March 2019.
About this Event
The Chain-Florey Clinical Research Scheme was established in 2009 to facilitate the translation of basic science for clinical benefit. The scheme provides clinicians with the opportunity to do basic science research in the outstanding laboratories of the MRC London Institute of Medical Sciences (LMS) based at Hammersmith Hospital in West London.
The symposium will include, talks by some of our first Chain-Florey Clinical Research Fellows, who will share their clinical research journeys, and we will hear about the latest research from our current Chain-Florey Clinical Lecturers and Fellows. The keynote address will be delivered by Professor Charlie Swanton, Francis Crick Institute, who will be presenting his work on cancer evolution and treatment resistance.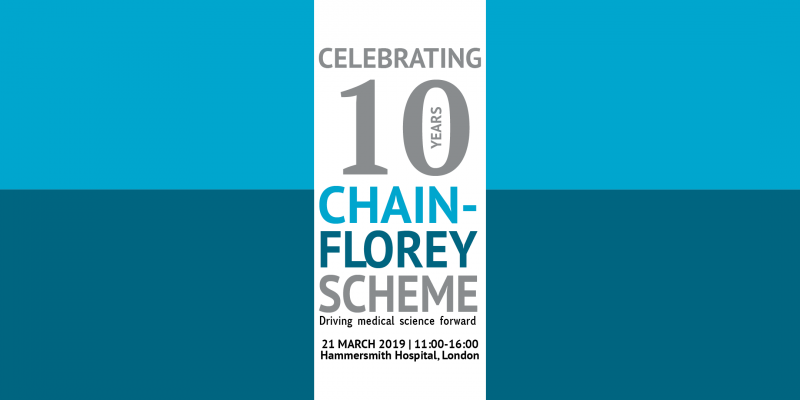 11:00 Introduction Professor Dame Amanda Fisher
11:05 Talks from current Chain-Florey researchers
Ceris Owen, Fellow
Harry Leitch, Lecturer
Eleanor Sandhu, Alumna
12:05 Networking lunch break
13:00 Keynote talk Professor Charlie Swanton, Francis Crick Institute
14:00 Talks from first Chain-Florey Fellows
Jonathan Bond (Alumnus 2009-2012)
Tomoki Arichi (Alumnus 2009-2012)
14:45 Coffee break
15:00 Panel discussion: What will the remit of a clinician scientist be in 2029?
15:30 Networking reception