"A Picture of Health" is a broad phrase that invokes different ideas, thoughts and feelings for different people. We are looking to explore what artists, researchers and varied members of society interpret by this phrase. Five pieces of work are being created to not only explore the topic, but to then also be used as conversational and programming tools to discuss this topic with the public.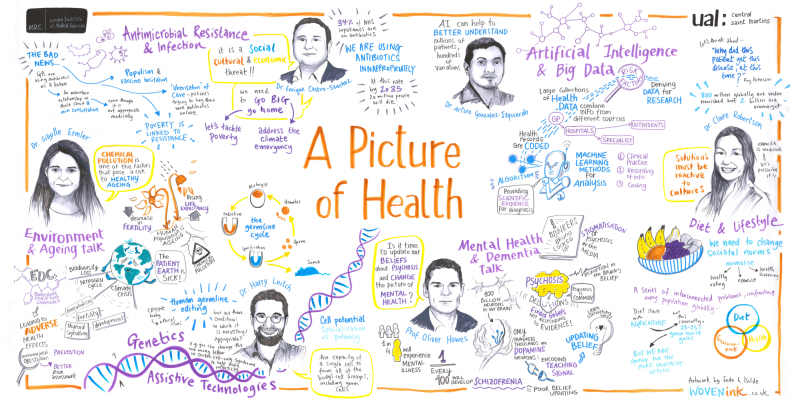 A Picture of Health is the latest science-art project pioneered by Amanda Fisher (Director, MRC London Institute of Medical Sciences). It was the richness and range of emotions, imagery and perceptions that A Picture of Health conjures that inspired the idea of the project. The development of the new building for the MRC London Institute of Medical Sciences has provided the right timing to encourage artists and the public to explore and share their understanding and thoughts of what A Picture of Health means to them.
"A Picture of Health" – A collaboration between Central Saint Matins and MRC London Institute of Medical Sciences.
The project builds upon a long and fruitful partnership between the MRC London Institute of Medical Sciences (formerly MRC Clinical Sciences Centre) and Central Saint Martins (CSM) driven by Professor Dame Amanda Fisher's passion for collaborations between the sciences and the arts and creative industries to explore ways and means of engaging the public in science.
What does the project involve?
A workshop was run in June with talks and discussions, bringing together scientists and Central Saint Martins students from the Art and Science, Fine Art and photography masters courses.
The phrase "A Picture of Health" was explored through six key themes, guided by the MRC Spotlights: Antimicrobial Resistance and Infection; Artificial intelligence and Big Data; Diet and Lifestyle; Environment and Ageing, Genetics and Assistive Technologies; Mental Health and Dementia.
Following the workshop, CSM art students and scientists submitted a statement of interest which outlined their artwork proposal with the ideas they intended explore through their pieces of art work.
Five ideas of artwork have been selected for production over the 2019 summer. Co-production between the scientists and artists will produce art pieces on the topics of
Health and the environment
Memory loss in neurological and psychiatric conditions
Big health data
Anti-microbial resistance and infection
Sleep
Showcase of the work
Once the pieces of work have been produced there will be a pop up exhibition at the Elephant West Gallery on the 19th November, free to attend. Please email or to register interest in attendance for the opening.
Understanding the art-science collaboration
The fabrication of this work not only allows us to explore a range of topics, but also gives us an opportunity to understand the intricacies of the art-science collaboration process. We have produced resources to help facilitate and evaluate effective collaboration.
What is your Picture of Health
We are also interested to see your interpretation of the phrase "Picture of Health". Tweet us at @MRC_LMS or tag us in an Instagram post @mrc.lms with the hashtag #APictureOfHealth