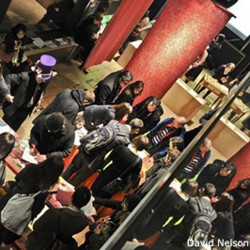 Science Museum's Dana Centre
The nationwide NOBELini scheme welcomed applications from a broad spectrum of designers and scientists. 60 applicants (30 science, 30 design) were shortlisted to participate in a speed-dating event at the Science Museum's Dana Centre in May 2009. Participants specified collaborative preferences and 30 scientist-designer pairs were devised.
Pairs were given until September 2009 to brainstorm and devise proposals for designs, which celebrate and/or communicate science across 4 themes: stem cells, energy and recycling, synthetic and systems biology and imaging. A total of 24 proposals were subsequently reviewed and graded by an international jury of professional designers and scientists.
The three most highly scoring proposals were awarded prizes of £2000 to develop their designs. Design prototypes were exhibited at the Dana Centre in February 2010. The exhibition launched on Wednesday 10th February 2010 with a speech from Sir Tim Hunt, who participated in the sibling project, Nobel Textiles and Professor Amanda Fisher (Director, MRC Clinical Sciences Centre), Fabrics of Life project pioneer.
Public feedback was collated from responses provided by exhibition visitors. 100% of respondents enjoyed the exhibition and 80% said they were stimulated to learn about the science behind the design work. Half of the respondents specifically requested to be kept informed of future developments and/or projects of this nature.