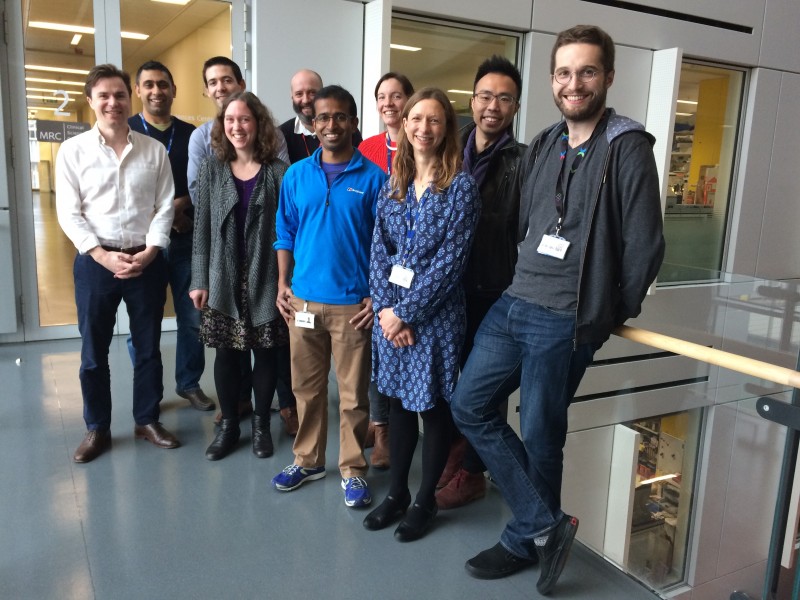 Our current Chain-Florey Fellows, Lecturers and FY2 Trainees with Mark Ungless, Director of Postgraduate Studies.
The Chain-Florey Clinical Research Scheme offers world-class research training to medical graduates at key stages of their careers. The scheme covers the whole range of clinical training with trainee positions at academic Foundation Year 2 level, Fellowships at specialist training level and Lectureships once specalist training is completed.
Since the scheme's inception in 2009, 18 Fellowships have been awarded; our 19th Fellow will be starting in November 2016. 14 graduates have emerged ready to tackle clinical research questions with scientific precision: 7 of our graduates are in Clinical Lecturer posts, 7 have returned to clinical training or obtained prestigious clinical research fellowships.
Since 2015, we are also offering Clinical Lectureships, to provide support for clinician scientists who have already successfully completed a PhD or post-doctoral fellowship in basic science. Four research areas are eligible: renal medicine, cardiovascular sciences, endocrinology and metabolism, and haematology.
In 2016 we introduced a Foundation Year 2 Programme, a collaboration with the North West Thames Foundation School, which allows excellent clinical trainees in their second foundation year to undertake four months of research in an LMS laboratory. We provide salary funding and consumables during their research stay. The stay is designed to support a future application for Academic Clinical Fellowships.
Mentoring is key to the scheme's success: Fellows have two academic mentors and an additional clinical mentor. Lecturers have two mentors, one external to the LMS and one internal mentor.
The Chain-Florey scheme is named in celebration one of the greatest collaborations between medicine and science: Howard Florey, a clinically trained pathologist, and Ernst Chain, a biochemist, who shared the 1945 Nobel Prize in Physiology or Medicine with Alexander Fleming for their work in discovering, developing and producing the first antibiotic: penicillin.
To read more about the scheme, its sponsors and advocates, current and previous Fellows, please download the 2018 Chain Florey Fellowship brochure here.