The Epigenetics Section at the MRC London Institute of Medical Sciences enjoyed a day of talks, posters and networking at the Scale Space on 28 June.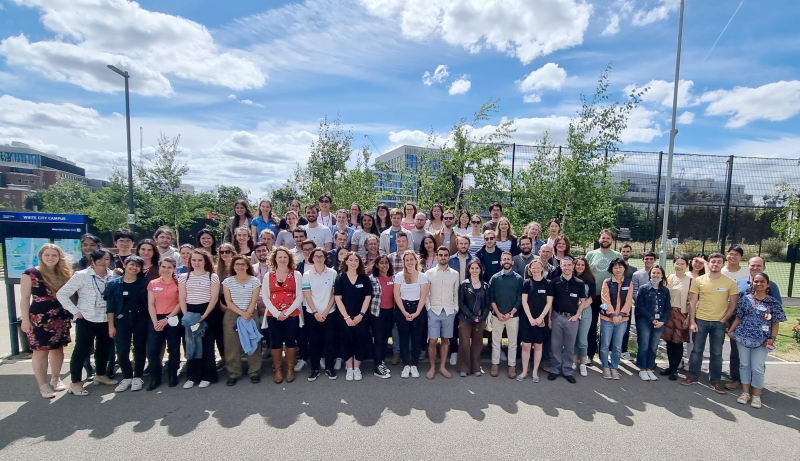 The morning consisted of two "Scientific Sessions" chaired by Dr Liz Ing-Simmons (Developmental Epigenomics) and Dr Mikhail Spivakov (Functional Gene Control). These were each followed by a series of flash talks in which speakers had just two minutes and two slides to present their work. 
After lunch, a poster session allowed opportunities for colleagues to network and further discuss and explore the section's science. Dr Enrique Fadri Martinez-Perez (Meiosis) said, "It was great to get to meet a lot of people from other labs that you haven't necessarily met before and the posters were a great opportunity for students to present their work and get feedback." 
There were several prizes up for grabs for the flash talks and posters presented on the day. These included prizes chosen by a panel of judges in addition to the people's choice. Congratulations to Sherry Cheriyamkunnel (Epigenetic Memory) who was awarded the first prize.
Dr Vicki Metzis (Development and Transcriptional Control) said, "It's been a really great day. People have been interacting in a way that really hasn't been possible for quite a while. I'd forgotten what it felt like to stand in front of an audience of people! What's really nice is that our section is diverse yet very complementary. One of the strengths of the LMS on show here today is that people are just so creative and excited and passionate about their science. I really feel invigorated hearing about what other people are doing and I've walked away with a few new ideas!" 
Interim Institute Director and Epigenetics Section Chair, Professor Petra Hajkova (Reprogramming and Chromatin) said: "It's amazing to see the energy and get the people together in-person. It's great to see all the young people working here, their enthusiasm and the new generation of scientists coming through. The level of optimism has been really inspiring." 
PhD student, Julia Needham said, "It's been a great day of communicating and getting to know what's going on in the rest of the epigenetics section. It's been really well organised and I've enjoyed seeing that no matter what you do, you can always provide another perspective on someone else's science that they might not have thought about." 
Speakers in the first Scientific Session were Professors Tobias Warnecke (Molecular Systems) and Amanda Fisher (Epigenetic Memory) and Dr Vicki Metzis (Development and Transcriptional Control). This was followed by six flash talks by PhD students and post-docs Fern Hughes (Cell Cycle Control), Jessica Ellins (DNA Replication), George Moore (Single Molecule Imaging), Josh Prince (Meiosis), Camille Dion (Germline and Pluripotency) and Radina Georgieva (Computational Regulatory Genomics). 
The second Scientific Session featured talks from Drs Enrique "Fadri" Martinez-Perez (Meiosis) and Alexis Barr (Cell Cycle Control) and PhD student Macia Sureda Vives (Synthetic Biology). Flash talks were delivered by PhD students and post-docs Julia Needham (Development & Transcriptional Control), Sara Llorente-Armijo (Developmental Epigenomics), Bryony Leeke (Chromatin & Development), Monica Della Rosa (Functional Gene Control), Manos Stylianakis (Telomere Replication and Stability / Epigenetic Mechanisms and Disease) and Sotia Ellina (Epigenetic Mechanisms). 
The event was organised by Dr Vicki Metzis (Development and Transcriptional Control) and Professor Juanma Vaquerizas (Developmental Epigenomics).