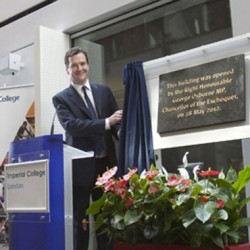 George Osborne MP opens new research facility
Scientists from the CSC have taken their place in a major new research facility at the Hammersmith Campus. Within the £73 million Imperial Centre for Translational and Experimental Medicine (ICTEM), CSC scientists will carry out their research in a brand new, state-of the-art environment.
In a ceremony on May 28 2012, George Osborne MP, Chancellor of the Exchequer, officially opened the building. The new wing of the Clinical Sciences Centre forms the second floor of the facility. It will provide a new home for the Physiological Genomics & Medicine, Nitric Oxide Signalling, Integrative Genomics & Medicine, and Molecular Cardiology groups, as well as the Genomics Laboratory. Access to leading technologies such next-generation gene sequencing equipment will enable the groups to drive forward their research into the fundamental causes and effects of disease.
The ICTEM will act as a multi-disciplinary centre for medical science. In addition to the Clinical Sciences Centre staff, it also houses the Imperial Cancer Research UK Centre, the Wellcome Trust – McMichael Clinical Research Facility, and one of Europe's largest cardiovascular research facilities, including the headquarters of the British Heart Foundation Centre of Research Excellence at Imperial.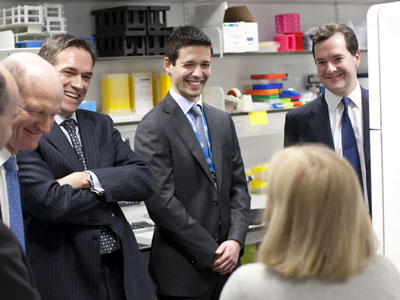 George Osborne MP meets CSC staff
"This is a fantastic new building to promote cutting edge collaborative research," said Professor Amanda Fisher, director of the CSC. Combining laboratory space for up to 450 scientists with a dedicated resource for clinical trials, the building aims to fuel the progress of biomedical science, propelling the process of discovery and ultimate translation into practical applications. It was built over four years, with support from the British Heart Foundation, Imperial College Healthcare NHS Trust, the Medical Research Council, and Wellcome Trust.
Speaking at the opening ceremony, the Chancellor George Osborne said the Imperial Centre for Translational and Experimental Medicine "is what this country's vision for the future of life sciences is all about. This new Centre rises to the challenge of ensuring we remain a world leader in life sciences. The future is academic research, clinical practice and industrial application coming together.
"Our future depends on the work going on at Imperial and in world class labs like this across the country. Not just the future of our scientific communities but also the important contribution that they are making to the future of this country's industry, growth and jobs."
–AL
George Osborne MP quotes source: Imperial College London
Photo credit: Thomas Angus