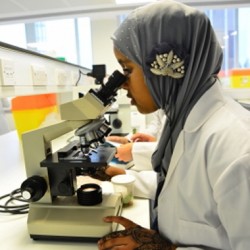 Primary school pupils become CSC scientists for a day
"Local primary schools are crying out for opportunities to provide their pupils with scientific experiences," says Brona McVittie (Head, Public Engagement, Media & Grants). The demand from primary schools in Hammersmith & Fulham is clear, and schools have responded positively to learning more about science at the CSC through a series of regular workshops at Imperial College's newly refurbished teaching labs. Gina Cain (Science Co-ordinator, Old Oak Primary School) commented on the institute's outreach for schools programme. "The kids thoroughly enjoyed themselves and now the rest of the school are enjoying the interactive display they have made! There has been lots of talk and interest."
Five microscopy workshops have now taken place since June 2013, when the MRC opened doors to commemorate its 100th birthday across its 63 units, centres and institutes. The most recent CSC workshops took place on October 15th and 16th providing Year 6 pupils from Normand Croft Community School and Old Oak Primary School a taste of lab life, as they explored and examined many cell types under the microscope. Samples were provided from the CSC's Microscopy Laboratory; and from research groups such as Cell Proliferation, Quantitative Gene Expression, DNA Replication, Gut Signalling and Metabolism, Meiosis and Neurophysiology. "I'm really pleased I went and had a brilliant time, thank you so much, I loved it," said Shaymah from Old Oak Primary School.
Live yeast, algae and bacteria were all under investigation, alongside examples of neurons, blood films and even normal skin and cancer cells. "My favourite part was when we looked at blood cells," said Hassan from Old Oak Primary School. While, Keith from Old Oak Primary School revealed, "I really liked it when we learned about skin cancer. I never knew sunburn could cause a disease!" Pupils also inspected fruit fly larvae, learning about their life cycle and importance in medical research, and were able to bring in and study their own samples, which included hair, broccoli, wheat grains and insects.
CSC scientists were on hand to teach more about the cells and their role in health and disease. Dr Selina Raguz (Investigator Scientist, Cell Proliferation) commented on the workshops, "I am delighted that Dr Dirk Dormann (Head, Microscopy Laboratory) and Brona McVittie are doing so much to get local children interested in medical research and what we do at the CSC." Selina, who also teaches science one day per week at a local school to Year 1–9 pupils, revealed, "I strongly believe that this age group (7-11 years old) is the perfect stage to get the children hooked on science so that they persevere at it in secondary school and are not put off for being thought of as too geeky." Aside from benefiting the pupils, Selina also commented, "I also think that this is the perfect forum for PhD students and postdocs to get a feel for public engagement and how they might inspire our next generation of scientists."
MRC CSC hopes to extend educational outreach programmes to include 'DNA Extraction and the Double Helix' and 'The Brain'. Thanks to volunteer scientists Alex Sardini, Naveenan Navaratnam, Fiona Leiper, Consuelo Barroso-Gutierrez, Selina Raguz, Oliver Crawley, Kyoko Tossell, Sarah Linnett, Magdalena Opanowicz, Malika Saint, Dafni Hadjieconomou, Keng Imm Hng, Simona Parrinello and Dirk Dormann.
YJ & BM