We are extremely proud of all our colleagues who are contributing to the COVID-19 emergency response. We want to celebrate them by highlighting their contributions over the next few weeks in this mini-series of 'LMS Emergency Response to COVID-19'. Today we want to introduce you to one of our post-docs; Helen Ray-Jones, who along with the Functional Gene Control group is collaborating on some COVID-19  research.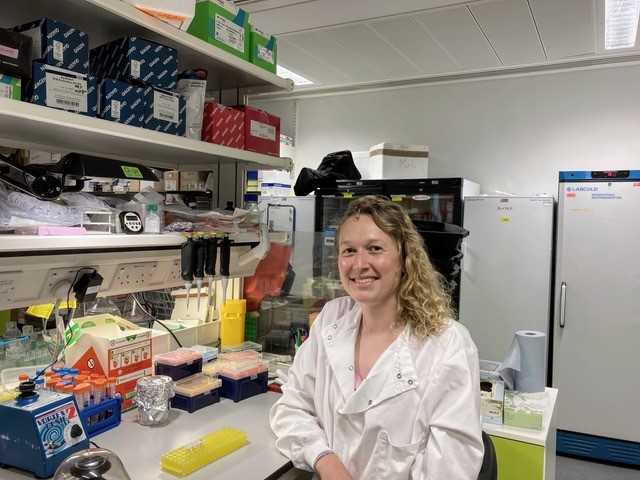 What is the COVID-related work you are involved with?
We are collaborating with Professor Ivan Marazzi (Mount Sinai, New York), who is leading on a study investigating the cellular response to SARS-CoV-2. Ivan Marazzi contacted us through a mutual collaborator who knows about our lab's expertise in this field. We are helping by using our expertise in enhancer profiling to decipher how the genes associated with severe inflammation are turned on in SARS-CoV-2-infected cells. This is important because understanding the biological processes behind COVID-19 will allow us to find new ways to tackle the virus.
How do you envision that this might help in the fight against COVID-19?
Our work complements the clinical aspect of COVID-19 research by providing a biological basis for some of the viral responses seen in patients. As a group we are very pleased to be able to apply our specialist expertise to help with the current crisis. We anticipate that the findings will contribute towards newly developing strategies for combating the virus and potentially preventing a severe inflammatory response in patients.
What is your work at the LMS about?
My research within the Functional Gene Control group at the LMS helps us to understand non-coding regions of the human genome known as enhancers. Enhancers have a critical function in gene regulation by "switching on" their target gene. Interestingly, enhancers are often located very far away from their target genes in the genome, which makes their mechanism difficult to decipher. As a group, we use various molecular biology techniques to profile enhancers and unravel their complexity in human cells.