We are extremely proud of all the efforts that every single one of our colleagues are doing during the current COVID-19 pandemic. We want to continue to celebrate their contributions by highlighting their actions as part of our mini-series 'LMS Emergency Response to COVID-19'. Today, we want to introduce you to another one of our postdocs who have been volunteering with Imperial Health Charity and we recently caught up with her to see how they have been supporting.
"I'm a volunteer with Imperial Health Charity at Hammersmith Hospital for the COVID-19 Crisis Response. The Charity collects community donations to ensure that hospital staff have access to basic necessities liked hot meals during their shifts. Our main duties are delivering coffee, meals and care products to all the COVID wards, whose staff are working around the clock. And this doesn't include just the front-line staff like nurses and doctors, but also radiologists, porters, estates and cleaning teams who often don't get enough acknowledgement. The outpouring of support from restaurants and businesses has been incredible and there are four Charity staff working overtime to coordinate the donations as well as managing volunteer recruitment.
Volunteers sign up for shifts and we just do whatever is needed on the day to help out. To give you a scale of the donations, we recently received 12,000 boxes of giant chocolate eggs just in time for Easter, and it was quite an interesting few hours sorting that out! Everyone in the hospital is doing their best, and despite being under enormous pressure, all the hospital staff are always so gracious and friendly when we come around with deliveries which has made volunteering at the hospital during this time a really positive rather than just stressful experience.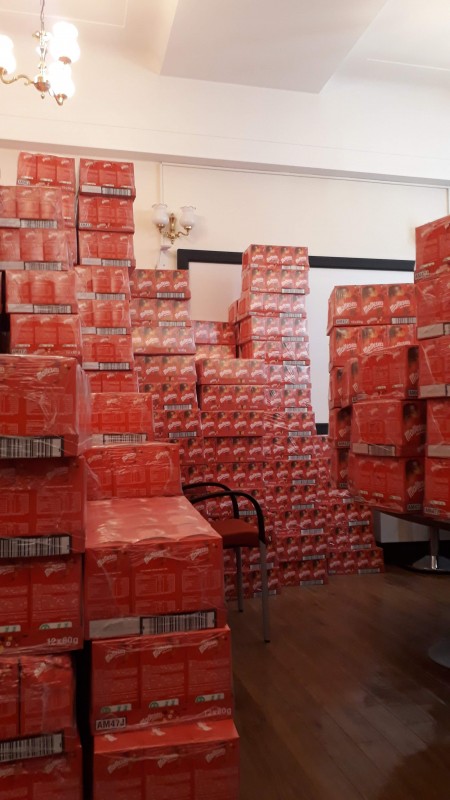 I was already a volunteer at the Hospital with Imperial Health Charity, and when the COVID-19 crisis emerged, all active volunteers were transferred from our regular duties to the COVID Crisis Response team. There's still an active volunteer recruitment drive for three hospitals in London. As a scientist, even if not everyone gets called for helping out with testing, there are still a lot of other ways to help in the community."