In-person science in an iconic venue with colleagues you may not have seen in months. The latest LMS retreat was a much-needed chance to get away from the institute for a day of talks and networking. Dr Andre Brown, head of our Behavioural Phenomics group and co-organiser of the retreat reflects on the day.
This year's retreat, the first in a while, was held at the Royal Institution where our speakers got to stand behind Faraday's desk and present their latest work. Topics ranged from quantitative physiology and genetics to the molecular basis of disease and structural biology. This diversity reflects the lack of disciplinary boundaries in the science that's done at the LMS (and maybe a lack of discipline in the organisers). Throughout the day, the audience was engaged with lots of good questions from postdocs and students in addition to group heads. A few questions came through Zoom from the viewers at home as well, which I was happy to see. The event was hybrid, which meant that those who couldn't attend in person were able to watch and engage via live stream.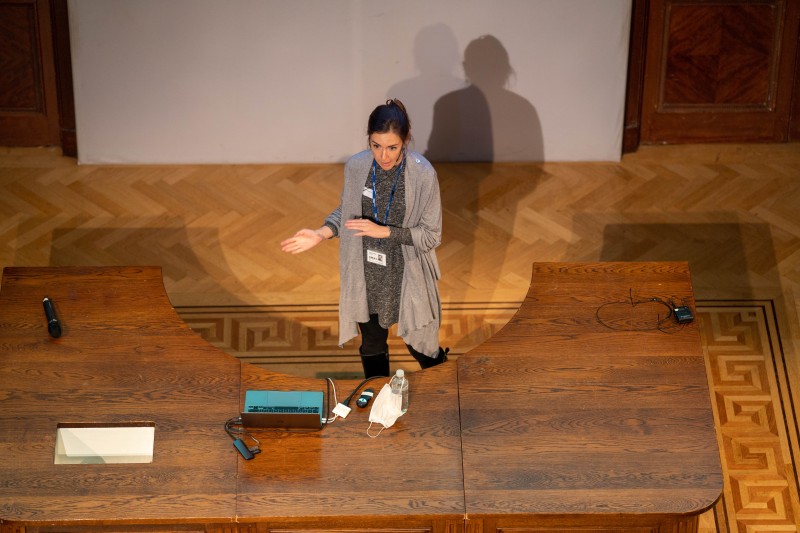 Dr Lucy Penfold presents her research on targeting AMPK in Prostate Cancer behind the very desk Faraday gave his Christmas lectures.
Our keynote speaker was the LMS's own Niall Dillon who reflected on his career at the LMS. Niall retired this year and the keynote talk gave him an opportunity to share some highlights of his work in epigenetics and gene regulation. I was trying to read between the lines to figure out how you successfully pass five quinquennial reviews but maybe the answer is just to ask good questions, follow the data, and communicate your results clearly. In her introduction to the talk, Piera Sabbattini, an investigator scientist who worked in Niall's lab from the start, mentioned the energetic conversations that could be heard through the halls of the LMS wherever Niall went. We may have gotten a sense for that with this memorable opinion from Niall: "The day we stop doing mouse experiments is the day we give up on understanding mechanisms in mammalian biology".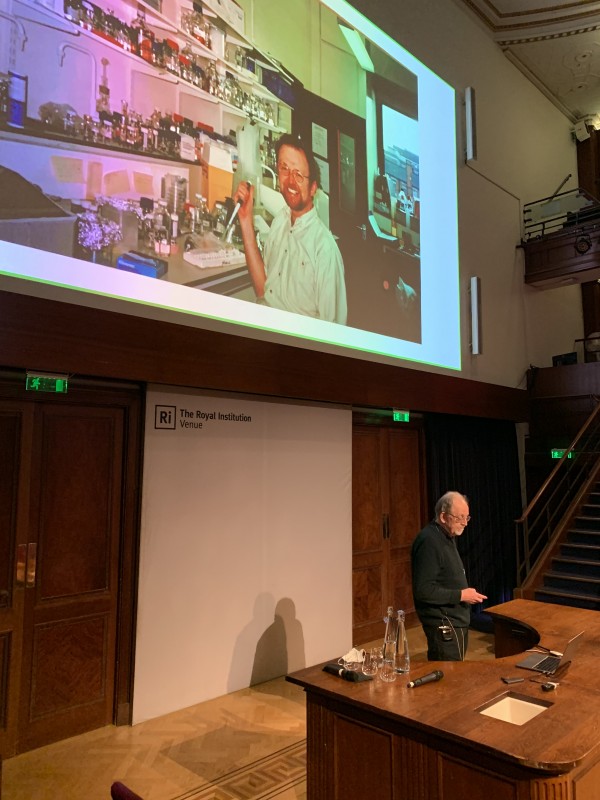 Keynote speaker Niall Dillon shared some of the highlights of his career in epigenetics and gene regulation at the LMS Retreat.
We ended the day on a high with a series of 2-minute flash talks from our PhD students. The enthusiasm was palpable. The timing was perfect. The only complaint I heard was that there were no prizes this year. But don't despair and don't forget to polish your slides. Flash talk prizes will be back next year.
I left the retreat grateful to our wonderful speakers and energised for the year ahead.