On 24 June, chemists from the Department of Chemistry at Imperial College London and medical researchers from the MRC LMS gathered for the inaugural LMS-Chemistry Mixer.
With the developments going on at Imperial's White City campus in such close proximity to the MRC LMS just down the road at the Hammersmith campus, there is a wealth of knowledge, facilities and expertise on our doorsteps. The aim of our mixer events is to encourage collaborations between Group Heads at the LMS and academics from, in this case, the Department of Chemistry at Imperial, who have recently moved across to the White City campus.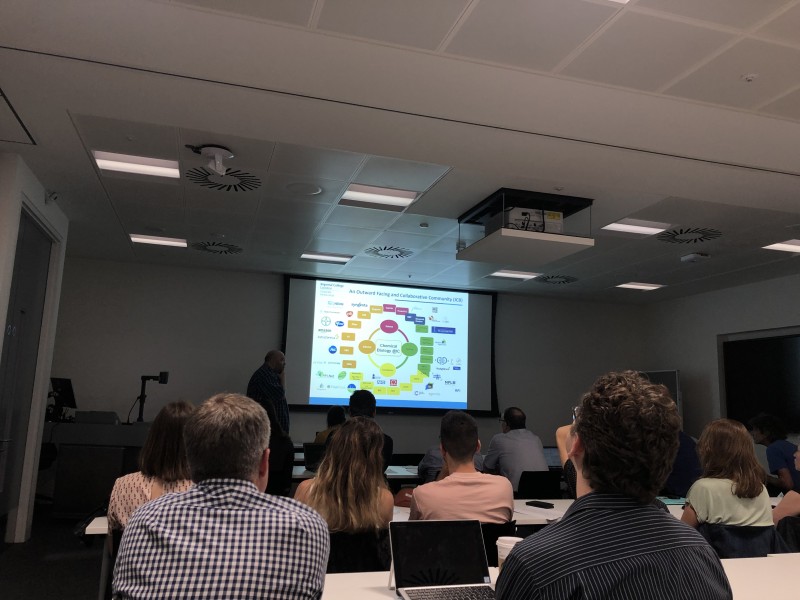 The afternoon started off with an overview of the current landscape. The chairs of our three research sections; Irene Miguel-Aliaga, Petra Hajkova & Matthias Merkenschlager, shared more about the research and Group Heads going on at the LMS' Genes & Metabolism, Epigenetics & Quantitative Biology sections respectively. This was followed by an introduction to the landscape of the Department of Chemistry at Imperial. Ed Tate introduced Chemical Biology & Healthcare, Ramon Vilar shared more about Imaging, Sensing and Analytical Chemistry, while Oscar Ces rounded up the first session talking about the Institute of Chemical Biology.
Collaborations between LMS researchers and academics at the Department of Chemistry at Imperial are not completely novel. In fact, there are already successful collaborations in place, therefore in the hope of inspiring more, the PhD students from two current collaborations took us through their research in the second session of the afternoon. First is a collaboration between the LMS' Group Head JB Vannier and Imperial's Ramon Vilar and Marina Kuimova. Their joint PhD student Ben Lewis shared a talk about their research entitled 'Imaging G-Quadruplex DNA in live cells using Fluorescence Lifetime Imaging Microscopy'. To find out more about this research & how the collaboration enhances the research ambitions, you can read this article here.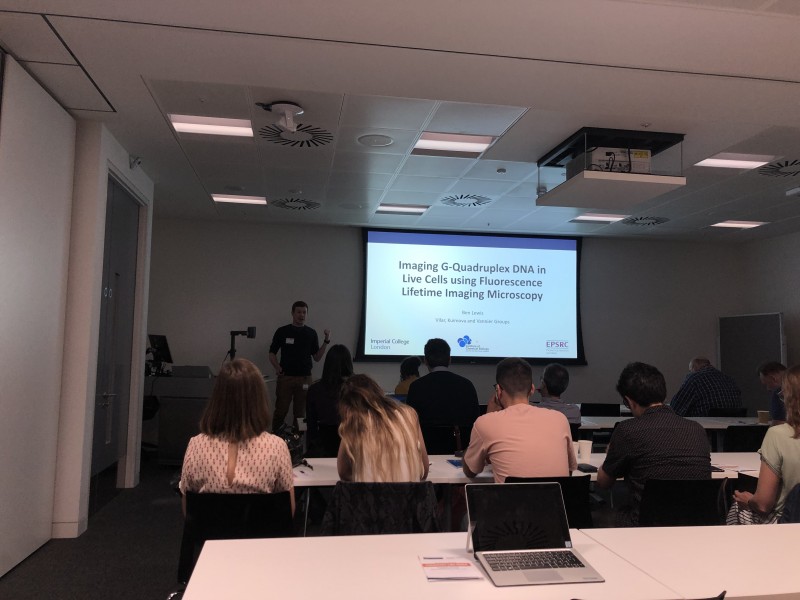 The second successful LMS-Chemistry collaboration involves the LMS' Luis Aragon & Imperial's Matt Fuchter. Their joint PhD student Ollie Bardell-Cox presented research from their latest publication about finding a new route to synthesise natural antibiotic products called nybomycins. You can read more about this research in this article.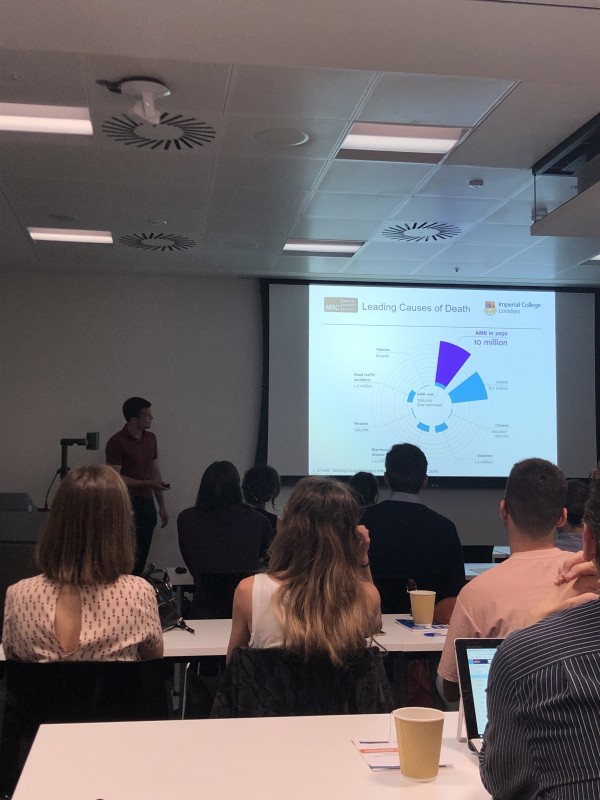 The final session of the day was a series of short talks where biologists and chemists shared snapshots of their research interests, current challenges and highlighted potential areas of collaboration. Speakers from the LMS were Alexis Barr, talking about 'preventing quiescence to improve cancer treatment', Daniel Martinez-Martinez, sharing their work on 'metabolites at the interface of microbe-host physiology', and Ana Guerrero, talking about 'strategies to target senescence'. The quick-fire talks from the Department of Chemistry were by Alex Ivanov, Nazila Kamaly and Anna Barnard, who spoke about 'nanoscale strategies for single molecule and single cell analysis', 'nanomedicines for heart disease therapy' and 'innovative approaches to protein-protein interaction inhibition' respectively.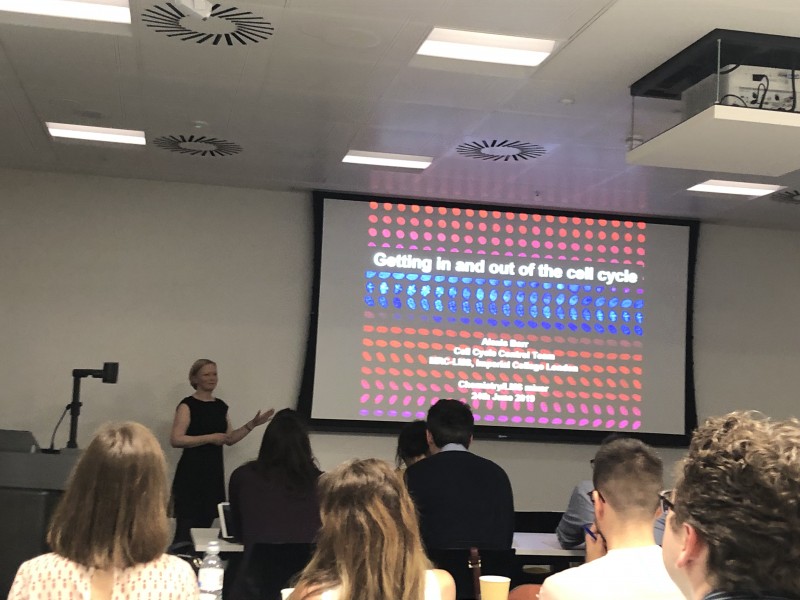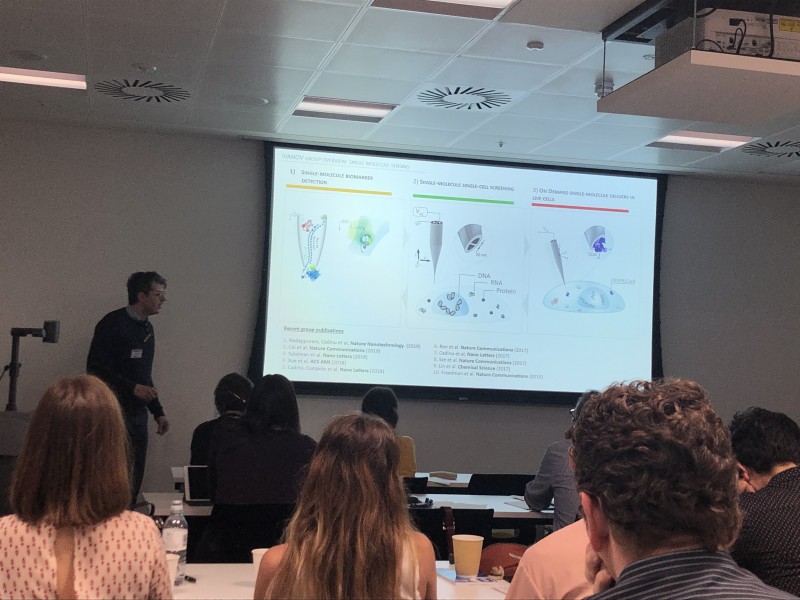 The mixer concluded with the opportunity for attendees to network informally over pizza and drinks; fuel for potentially fruitful future collaborations.