The MRC London Institute of Medical Sciences (LMS) has been based at the Hammersmith Hospital campus in West London since its creation in 1994. In 2017 the Medical Research Council and Imperial College London announced a joint project to build a new home for the MRC LMS on the former Cyclotron site.
The brief for the new building was to create approximately 12,000 meters squared of advanced research facilities in an environment which will provide a new home for the MRC London Institute of Medical Sciences and promote collaboration between all building users.
Walter Lilly MRC London Institute of Medical Sciences Project from Walter Lilly on Vimeo:
Current status:
Following the completion of the Topping Out ceremony, the contractors have turned their attention to the interior of the building. Work to transition all 350 LMS staff into the building is in progress.

Building progress timeline:
In February 2017 Turner & Townsend were appointed as the Project Manager and Cost Manager for the project.
In July 2017 a design team were appointed composed of Hawkins\Brown, Buro Happold and Abell Nepp.
In August 2018 contractors were invited to bid for the construction of the building.
In November 2018 the project team submitted the planning application for the building to the London Borough of Hammersmith and Fulham. You can view the application here.
In March 2019 Walter Lilly were appointed as the contractor for the project.
In July 2019 the London Borough of Hammersmith and Fulham approved the planning application.
In September 2019 the project received approval from the Greater London Authority.
In October 2019 the Section 106 agreement with the Council was signed off.
In March 2020 work began on the foundations for the new LMS building.
Through 2020 modified working practices allowed work to continue on the construction of the LMS building during the coronavirus pandemic. By the end of 2020 the framework and concrete pours of the first 6 floors of the building had been created.
In March 2021 an internal virtual town hall meeting was held and 360 renders of the new building developed by the architects were showcased.
In July 2021, two years after the LMS received planning permission for its new building, a traditional topping out ceremony was held to mark a critical milestone. 
In November / December 2021 the scaffolding around the building was removed and the coverings taken down. We can now see the external walls and cladding.
Click through to view 360 renders of the new building, created by Hawkins\Brown Architects: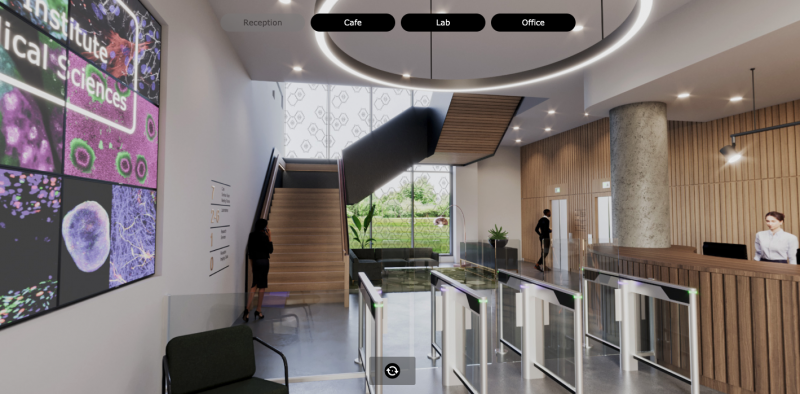 Contractor newsletters:
62. MRC LMS Project Newsletter – wc 6 December 2021
61. MRC LMS Project Newsletter – wc 22 November 2021
60. MRC LMS Project Newsletter – wc 8 November 2021
59. MRC LMS Project Newsletter – wc 25 October 2021
58. MRC LMS Project Newsletter – wc 11 October 2021
57. MRC LMS Project Newsletter – wc 27 September 2021
56. MRC LMS Project Newsletter – wc 13 September 2021
55. MRC LMS Project Newsletter – wc 30 August 2021
54. MRC LMS Project Newsletter – wc 16 August 2021
53. MRC LMS Project Newsletter – wc 2 August 2021
52. MRC LMS Project Newsletter – wc 19 July 2021
51. MRC LMS Project Newsletter – wc 5 July 2021
50. MRC LMS Project Newsletter – wc 21 June 2021
49. MRC LMS Project Newsletter – wc 7 June 2021
48. MRC LMS Project Newsletter – wc 24 May 2021
47. MRC LMS Project Newsletter – wc 10 May 2021
46. MRC LMS Project Newsletter – wc 26 April 2021
45. MRC LMS Project Newsletter – wc 12 April 2021
44. MRC LMS Project Newsletter – wc 29 March 2021
43. MRC LMS Project Newsletter – wc 15 March 2021
42. MRC LMS Project Newsletter – wc 1 March 2021
41. MRC LMS Project Newsletter – wc 15 February 2021
40. MRC LMS Project Newsletter – wc 1 February 2021
39. MRC LMS Project Newsletter – wc 18 January 2021
38. MRC LMS Project Newsletter – wc 21 December 2020
37. MRC LMS Project Newsletter – wc 7 December 2020
36. MRC LMS Project Newsletter – wc 23 November 2020
35. MRC LMS Project Newsletter – wc 9 November 2020
34. MRC LMS Project Newsletter – wc 26 October 2020
33. MRC LMS Project Newsletter – wc 12 October 2020
32. MRC LMS Project Newsletter – wc 28 September 2020
31. MRC LMS Project Newsletter – wc 14 September 2020
30. MRC LMS Project Newsletter – wc 31 August 2020
29. MRC LMS Project Newsletter – wc 17 August 2020
28. MRC LMS Project Newsletter – wc 3 August 2020
27. MRC LMS Project Newsletter – wc 20 July 2020
26. MRC LMS Project Newsletter – wc 6 July 2020
25. MRC LMS Project Newsletter – wc 22 June 2020
24. MRC LMS Project Newsletter – wc 8 June 2020
23. MRC LMS Project Newsletter – wc 25 May 2020
22. MRC LMS Project Newsletter – wc 11 May 2020
21. MRC LMS Project Newsletter – wc 27 April 2020
20. MRC LMS Project Newsletter – wc 13 April 2020
19. MRC LMS Project Newsletter – wc 30 March 2020
18. MRC LMS Project Newsletter – wc 16 March 2020
17. MRC LMS Project Newsletter – wc 2 March 2020
16. MRC LMS Project Newsletter – wc 17 February 2020
15. MRC LMS Project Newsletter – wc 3 February 2020
14. MRC LMS Project Newsletter – wc 20 January 2020
13. MRC LMS Project Newsletter – wc 23 December 2019
12. MRC LMS Project Newsletter – wc 9 December 2019
11. MRC LMS Project Newsletter – wc 25 November 2019
10. MRC LMS Project Newsletter – wc 11 November 2019
09. MRC LMS Project Newsletter – wc 28 October 2019
08. MRC LMS Project Newsletter – wc 14 October 2019
07. MRC LMS Project Newsletter – wc 30 September 2019
06. MRC LMS Project Newsletter – wc 16 September 2019
05. MRC LMS Project Newsletter – wc 2 September 2019
04. MRC LMS Project Newsletter – wc 19 August 2019
03. MRC LMS Project Newsletter – wc 5 August 2019
02. MRC LMS Project Newsletter – wc 22 July 2019