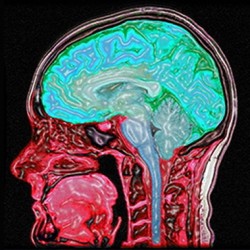 Remembering an eminent radiologist
Professor Robert Steiner (CBE) passed away peacefully at his home on Thursday 12th September, aged 95. Born in Prague in 1918, he began his medical training at the University of Vienna later specialising in radiology, the application of imaging science to diagnostics. Steiner first came to the Hammersmith campus in 1950 working his way up to Director of the Department of Diagnostic Radiology. He became the first Professor of Diagnostic Radiology at the hospital's Royal Postgraduate Medical School and was also President of the Royal College of Radiologists.
Imaging technologies including X-ray, ultrasound, computed tomography (CT), positron emission tomography (PET) and magnetic resonance imaging (MRI) have revolutionised medical practice by allowing doctors to literally 'see' diseases. Diagnosis no longer had to rely on invasive techniques and Robert Steiner was instrumental in developing the clinical potential of MRI.
Nuclear magnetic resonance (NMR) spectroscopy was first discovered in the 1940s. The technological advances that were to follow in the latter half of the century helped research scientists to visualise the structure of proteins, enzymes and nucleic acids. It wasn't until the 1970s that NMR technology was applied to the visualisation of biological tissue. At that time, small magnetic coils were being tested, which were large enough to scan a human finger. The Medical Research Council funded the development of the first full-body MRI scanner when it became possible to build larger magnetic coils.
Steiner and his departmental colleagues, Graham Bydder and Ian Young, used this technology to further develop the clinical application of MRI at the Hammersmith. From 1980, shortly before Steiner retired, the technology really started to take off. Today all major hospitals are equipped with MRI whole body scanners. As the late Professor Raymond Andrew, author of the first textbook on NMR, succinctly surmised during a Wellcome seminar in 1998, "Not only can we think about MRI, but MRI can watch us thinking about MRI."
Professor Steiner's vision allowed for the coming together of clinical radiology with, what was at the time, the relatively crude new science of NMR. "When I initially joined the MRI unit," says Louise Thomas (Metabolic and Molecular Imaging Group), "I had no idea who this nice old professor really was. However, after attending my first few international conferences and discovering that many heads of MRI groups around the world had spent time learning their craft in the Robert Steiner MRI unit, I began to get an understanding of this man, and his quite extraordinary place in history."
Professor Robert Steiner's funeral takes place today. The family is welcoming donations to the British Heart Foundation c/o T.H. Sanders, 447 Upper Richmond Road West, SW14 7PR; tel: 020 8876 4673
MRI image courtesy of Wellcome Images

BM