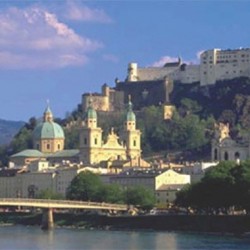 PhD student Aleksandra Turp considers the creative side of science
Roche Continents – organised by the pharmaceutical company – unites a hundred arts and science students from universities across Europe every summer. The programme proposes to 'uncover the common ground of creativity in the arts and sciences.' While the means by which the organisers would achieve this remained elusive, the programme was fantastically well organised.
Deliberately coinciding with the Salzburg Festival, every other evening saw us 'dressing up to the nines' and venturing into to the heart of the city to experience the contemporary compositions of Wolfgang Rihm.
The pieces were challenging, and while some of us scientists struggled to make sense of the opera based on Nietzsche's poetry, even the classically trained musicians found it difficult to grasp its musical peculiarities. Sometimes we just need to take off our thinking hats, sit back and enjoy.
Daily talks and workshops by artists, scientists, businessmen, musicians and Salzburg festival organisers were complimented by evening activities including a lavish dinner showcasing music from those of us gifted enough to perform, be it on piano or musical saw. And we were all challenged creatively in the end, when the organisers instructed us to put together a performance for the rest of the group.
Teamwork under time pressure saw us conjure up a diverse programme from satires to compositions, all reflecting on the week's experience. We got to polish it all off on the dance floor at the farewell disco, before saying our sentimental good byes to new friends the next day. In fact we had such a good time we thought we'd organise a reunion in October.
Information about the programme is available here: http://www.roche-continents.net/