On the morning of Friday June 14, unusually, we found ourselves amidst the turbulent London commuters' rush as we headed into the heart of the financial district for the 2019 Annual LMS PhD Student Retreat. Our destination was The Gherkin, which strikes an imposing figure on the city skyline. We passed the lobby to the elevator and rose up through the array of offices, nearly 40 levels to just beneath the apex. Searcys – our hosts for the day – warmly directed us to the pristine event room, although we couldn't help but draw ourselves towards the enveloping panoramic views of the bustling metropolis from which we had just ascended. Each of us took a few minutes to marvel before the Retreat's theme of "entrepreneurship" was brought sharply into focus.
"What does it mean to be an entrepreneur?" Ben Mumby-Croft asked, as we began the morning workshop. Ben is director of the Imperial Enterprise Lab, which works to help students at Imperial College London innovate and launch new ideas. But is having ideas enough? Introducing the 'Lean Startup' concept, Ben explained that what separates a successful entrepreneur from your ordinary "ideas man" is the need to take initiative with the groundwork, a rigorous bottom-up approach focused on talking to customers and minimising assumptions in your product.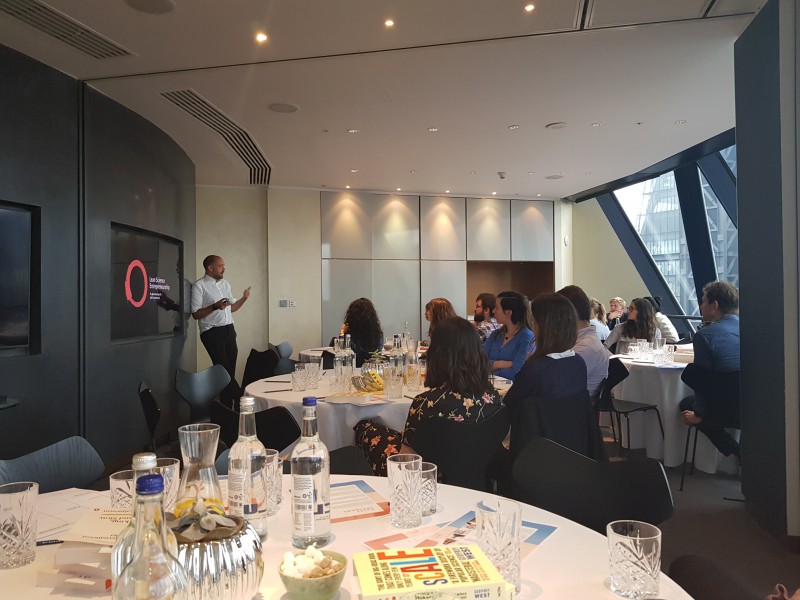 The Lean Start-Up concept sparked a perceptive discussion relating to the opportunities and difficulties that arise as an early career researcher harbouring hopes of cracking Silicon Valley. "How do you find the time away from all the PhD work?" asked Alice Burke  (1st year PhD student)  to murmurs of agreement from many.
One of our PhD students, Vas, who attended had this to say about the workshop:
"What at first felt like common sense, hearing the Lean Startup idea explained by Ben was a great way to formalise and making us aware of the common pitfalls of being a new entrepreneur"
Although at the start, only a few were quick to announce themselves as entrepreneurs, by the end of the pitch training session each table developed a rough business model for an intriguing idea with potential for the market. Of course, I cannot disclose them here as a courtesy to our future Bill Gates.
Next on the agenda is the short talk session, aimed at increasing student collaboration for student activities at the institute. Sophie Arthur from the Grants Engagement and Communications (GECo) team, kicked off proceedings highlighting the importance of science communication and engagement, together with the wide ranging opportunities at the LMS. We also marked the achievements of LMS Greening with founder and chair Rebeca Fiadeiro (2nd year PhD student), who presented  their valuable work increasing sustainability and reducing needless waste. Chiara Prodani (3rd year PhD student) and Irene Robles Rebollo (3rd year PhD student) ended the session with direct and engaging presentations, skilfully deconstructing their complex research on epigenetic imprinting and genome structure/organisation respectively.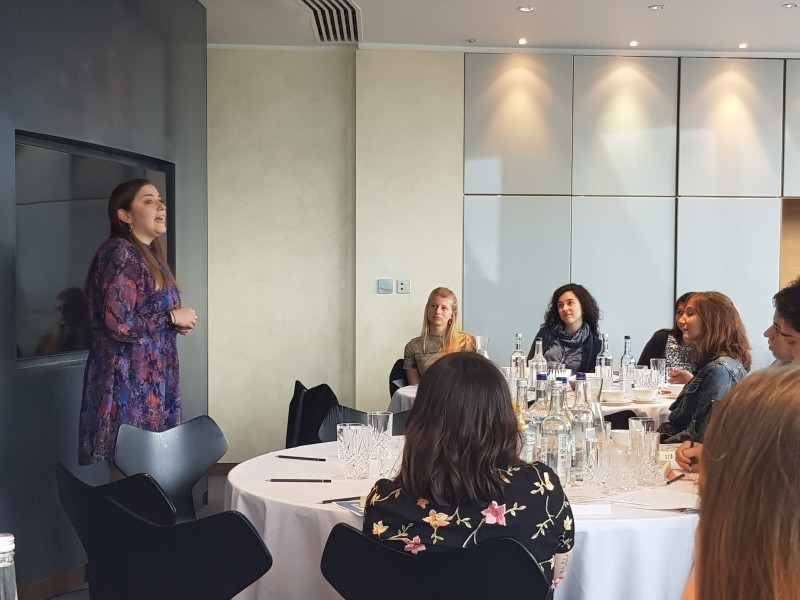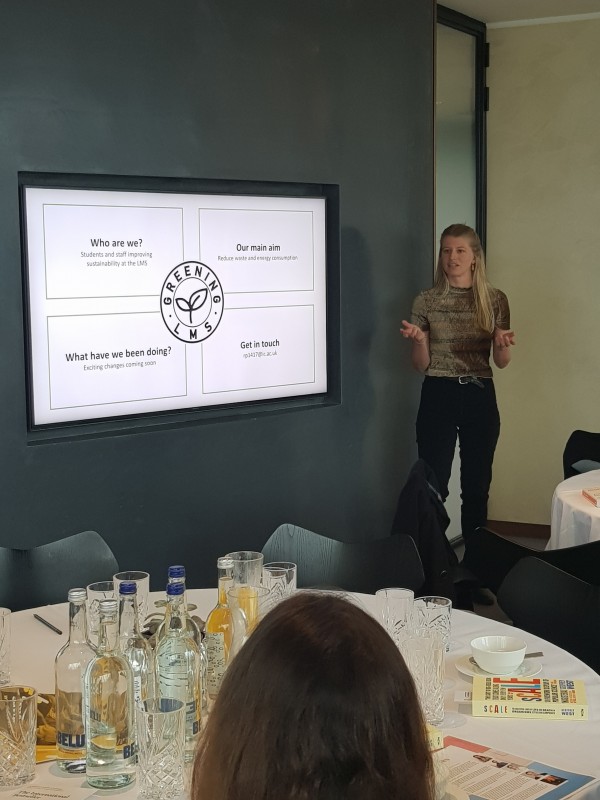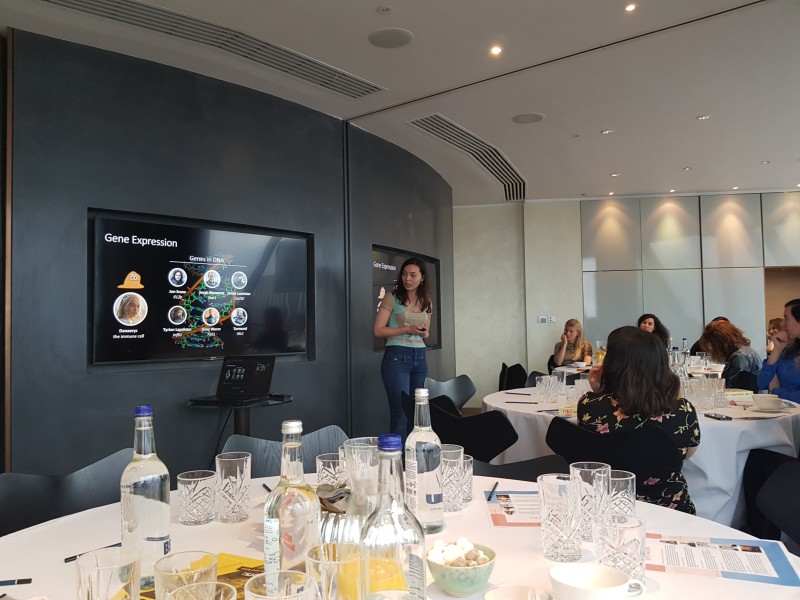 A thoroughly enlightening first half of the day concluded and lunchtime beckoned, if only for the interjection of Eren Akademir, a 2nd year PhD student who also happened to be one of the event organisers. "Now, I've got a surprise for you," he stated with a hint of mischief and child-like eagerness. A game dubbed 'Whose Year Is It Anyway?' commenced, coupled with ebullient saxophone music in a seeming ode to the lively gameshows of yesteryear. Members from each team are asked to give the year of landmark discoveries, distinguishing themselves as scholars of scientific history. It went down to the wire, a tiebreaker was required after five rounds. As emotions ran high, the quizmaster Eren channelled his inner "Brucie" to temper the unruly teams. In the end, team CMoC captained by Helen Paterson, emerged victorious with the inaugural WYIIA trophy.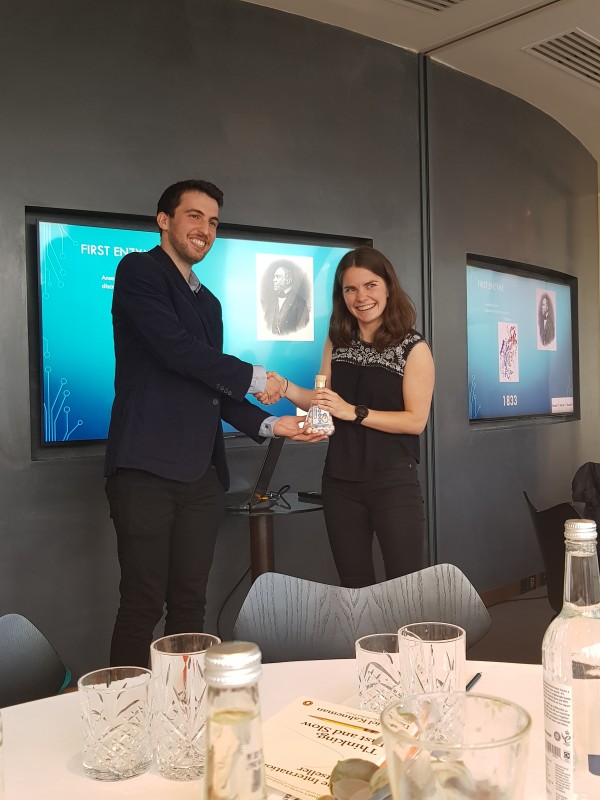 ­­­In the afternoon, we returned to our theme with a collection of young entrepreneurs joining us for a Q&A panel chaired by Sijia Yu (1st year PhD student). All of them were once PhD students, just like us, and started their business while pursuing a degree in science. Each member from the panel gave a brief introduction for themselves and their business. First to come forward was John Simpson and Alexander Bond, founders of Fresh Check, a biotech provides colour-change tools to confirm cleanliness in the food industry. John and Alex share their unforgettable experience from co-workers in Chemical Biology at Imperial College London to co-founders of a company. Moving on, we met Andrea Rodriguez-Martinez, co-founder of Momony, a start-up company that focuses on healthcare of people from isolated and low-income areas, as well as Laura Towart, who established her first company Celmatix in the US and now has become the founder and CEO of My Personal Therapeutics, a London based biotech/digital health company. Last but not least, co-Founder & Managing Director at techspert.io, Graham Mills led us through his journey of entrepreneurship starting at Cambridge. He has built an AI platform for indexing and quantifying healthcare and scientific expertise, where support companies in identifying and engaging thought leaders globally for targeted insights into very specific topics.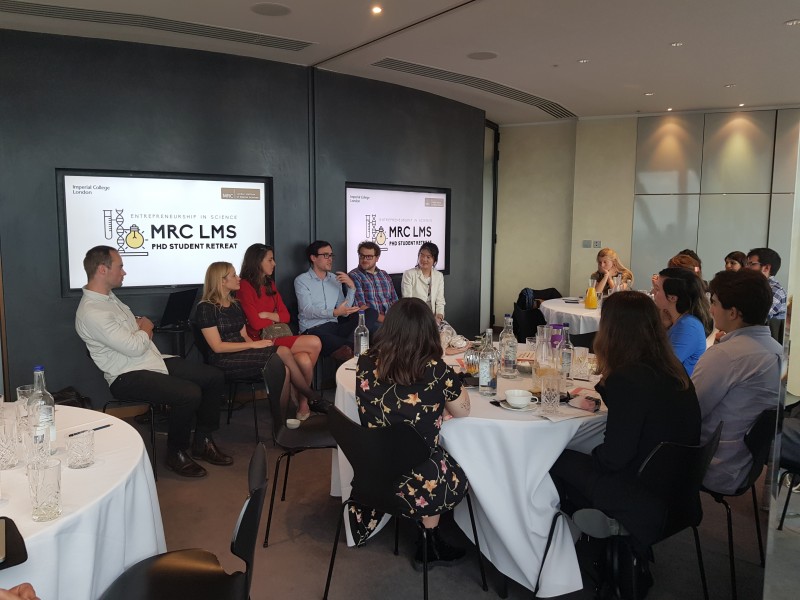 The intriguing experience of the panel certainly induced the interests of the audience. A number of insightful questions were raised later on, focused on funding, ideas, time-managing and people skills and much more. John and Alex mentioned that Imperial College London provides supports to entrepreneurs-want-to-be in various aspects, including intellectual property, business training and funding opportunities, while Andrea pointed out that there are many competitions held in London that support women entrepreneurs. "How hard is it to get the first working prototype?" asked Eva Kane (2nd year PhD student). It turns out, not very hard. Laura, for example, received the start fund for her first company even before any working prototype. Graham seconded this and claimed that he was never an "idea" person, but instead wanted to get the ball rolling on establishing a functional business model. Based on the enlightening advice from the panel, we have to say that it is important for us to remember that having an idea is not difficult, what is difficult is turning that into a business.
We drew to a finale with the keynote talk delivered by Sir Tom Blundell, Emeritus Professor of Biochemistry at the University of Cambridge. We must say having listened to his lectures and interviews previously, we knew we were in for something special. And indeed, Sir Tom took us steadily through his rollercoaster life in science, politics, business and even music, extracting the important lessons on the way.  As Sir Tom listed off his panoply of achievements – from discovering the structure of insulin with Dorothy Hodgkin in 1969, to co-founding a now multi-million dollar oncology pharmaceuticals company Astex in 1999 – we looked to our fellow PhD students who were similarly mesmerised in awe. It can be daunting to follow someone of such stature but then how can it not be profoundly inspirational. After all, dwarfs standing on giants can see as far.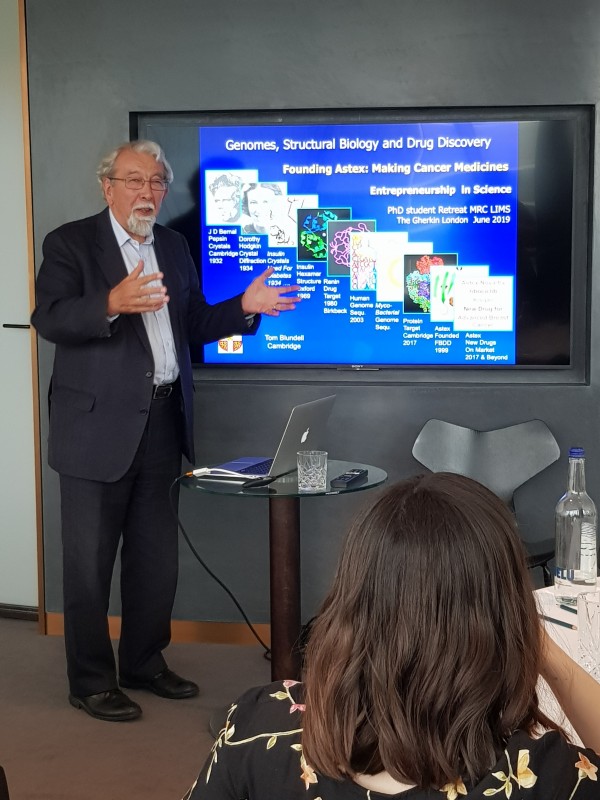 So there it is for another year and once again a triumphant student retreat organised by the tireless LMS PhD Student Committee. We would like to express our sincere gratitude to the Graduate School and Medical Research Council for the generous funding, without which these events would not be possible.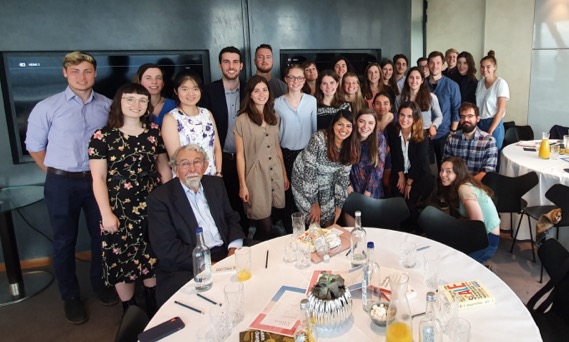 Written by PhD students Eren Akademir & Sijia Yu