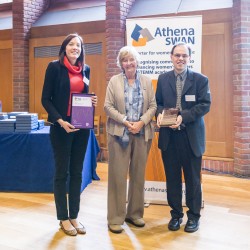 The MRC Clinical Sciences Centre and Imperial College London's Institute of Clinical Sciences received an Athena SWAN bronze award on 6 November 2014.
The Athena SWAN charter recognises commitment to advancing women's careers in science, technology, engineering, maths and medicine in higher education and research. A bronze award recognises a solid foundation for developing an inclusive culture that values all staff.
Christian Speck, chair of the CSC's Athena SWAN committee, and Chain Florey Fellow Jennet Williams accepted the award at a ceremony at the University of Cambridge.
During the ceremony the Athena SWAN committee highlighted the CSC's maternity cover policy as an example of good practice. At the CSC maternity cover starts before staff go on leave and continues when they return to work, so their research can progress while they are away.
Among other changes, the CSC will implement a mentoring programme for post-docs offering support and career advice, which is part of a three-year action plan that will help to achieve a silver award in three years' time.
The various institutions attending the ceremony shared ideas and initiatives aimed at ensuring gender equality within science.
"It was fantastic to get new ideas so we could see what needs to be done to make some real changes, and to stimulate our thinking about how we can receive a silver award in three years time," says Christian.
And Jennet says, "Hearing other people's experiences and successes has spurred us on to implement our plans, some of which are already underway."
In the April 2014 submission round, 83 awards were given – 63 bronze and 20 silver – out of 121 applications, raising the current number of award holders to 384 across the UK.
"The number of awards has increased exponentially over the last five years. In the future, having an equal representation of men and women will become a measure of esteem and a real competitive advantage for the research institute. And I think some funding in the future will depend on silver Athena SWAN awards," says Speck.
"We have to continue generating a culture in the institute where women have a good chance of succeeding," he adds.
There is still time to join the action groups involved in generating this culture of equality, so if you are interested please contact Barbara Hehir on