Nevena Cvetesic, a post-doc in the Computational Regulatory Genomics group at the MRC LMS, was recently awarded a competitive Wellcome Trust Seed grant. As part of Post-doc Appreciation Week, we want to celebrate some of the successes of our post-docs, as well as ask them to share their advice and tips for fellow and future post-docs. We sat down with Nevena to talk about her background, her research & her advice for other post-docs looking to apply for grants.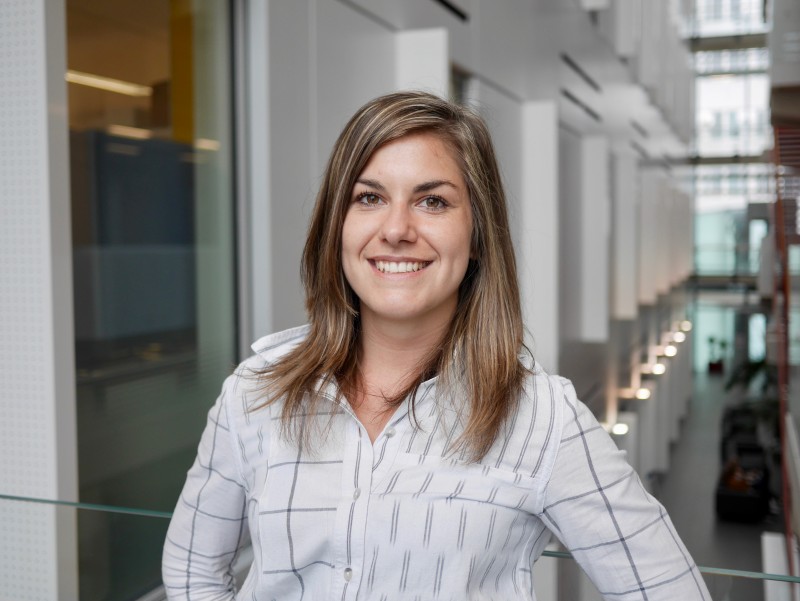 Nevena joined the LMS about 3.5 years ago after gaining her PhD in enzyme kinetics from the University of Zagreb in Croatia. After a discussion with her current supervisor and Head of the Computational Regulatory Genomics group here at the LMS, Boris Lenhard, Nevena made the decision to join the LMS and completely switch fields into computational and regulatory genomics. Nevena shared more about her career ambitions with us:
"I have always wanted to become an independent researcher, and Boris gave me the freedom to do just that within his group. Unfortunately, there are not many research funding opportunities for post-docs, but I want to show that I have done as much as I can do at the post-doc level to show that I can be independent. I have previously been awarded an EMBO Fellowship and an EMBO Advanced Fellowship so I could start making progress towards that goal, and the Wellcome Trust Seed Grant is an extension of that."
Nevena's grant will aim to dissect the role of core promoters – DNA sequences that are essential for genes to be switched on – in primordial germ cells (PGCs) – the precursors of egg (oocytes) and sperm cells – and oocyte development. Nevena shared more about the project with us:
"PGCs have an essential role in early embryo development, and while some aspects of PGC formation have been studied, an unexplored aspect is the role of core promoters. The developed methods to identify these DNA sequences requires a large number of cells, which can make it difficult for samples with low cell numbers, so I developed a low input version to reduce that need by 1000-fold. Using this recently developed method, we want to map the transcription start sites during PGC differentiation and oogenesis – the process where PGCs mature and become specialised egg cells to see what changes happen from precursor to a mature and specialised cell. We are going to investigate this in three different model organisms; mouse, Drosophila and zebrafish to see how conserved these mechanisms are. But long-term, we expect that our results will provide a better understanding of PGCs and reproductive cells and lead to more efficient in vitro protocols."
Writing grant applications can be a key part of being a post-doc, so with Nevena's recent success we asked her to share some tips and advice about being successfully awarded a grant:
"If you want to have your own independent research group, you have to be capable of having good ideas, showing you can bring in funding and publishing results too. So, my first piece of advice would be to apply for grant funding. I was always convinced that I wouldn't be successful but I tried anyway. I do wish that I had given myself more time to complete this application though. You should take advantage of the in-house grant support you have and make sure you give them and any collaborators time to read your application effectively. It is also good to know who has got fellowships and grants before so they can give you some advice. But a successful grant application needs a good idea. It needs to be sold as a good package, and you have to show through your experience why you are the best person to do that project, as well as being capable of finishing things with publications. Another crucial component is expressing how well your project fits into the environment you will be in. While I am the lead applicant on the grant, I will be working with Boris, as well as Petra Hajkova and Harry Leitch from the Reprogramming & Chromatin, and Germline & Pluripotency groups here at the LMS, so I will have the best support to be able to achieve the goals of this project."
If you want to learn more about her research or grants, or follow along with Nevena's post-doc journey over on Twitter here.