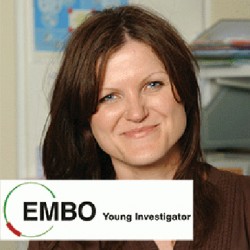 EMBO Young Investigator status for Dr Petra Hajkova
Dr Petra Hajkova (Reprogramming and Chromatin Group) was recently honoured with the European Molecular Biology Organization (EMBO) Young Investigators award, joining the prestigious network of 315 current and past members.
The programme is specifically for researchers under forty years of age who have established their first laboratories within the past four years. "The newly elected EMBO Young Investigators have the potential to be tomorrow's life science leaders," reveals Gerlind Wallon (EMBO Deputy Director and Manager of the Young Investigator Programme). "The status of Young Investigator offers a level of recognition that brings immediate benefits to scientists at an early stage of their careers."
Petra's team will be supported with 15,000 euros per year for three years, access to laboratory management and non-scientific skills training, training courses for PhD students and funding for group members to attend conferences. "Not only will the funding, training and access to core facilities help the lab grow, but the scope for networking will benefit us greatly. We will have opportunities to meet EMBO fellows and other members of the Young Investigators Programme at their annual conference," Petra explains.
Earlier in 2013, CSC research was acknowledged by some of the world's leading scientists when Professors Luis Aragón (Cell Cycle Group) and Matthias Merkenschlager (Lymphocyte Development Group) were elected with EMBO memberships. This latest Young Investigator announcement upholds the continuing success and recognition of CSC research, and offers a promising indication for future achievements.
For more information, and to view the full 2013 list click here.
YJ