This week was the final week of Naomi Conlon's T-level student placement at MRC LMS. Naomi is an Applied Science BTEC Extended Diploma Level 3 student from the College of Haringey, Enfield and North-East London (CONEL) and came to LMS to gain practical research experience within our laboratories.
Naomi, 17, came to LMS to work within the Transgenerational Epigenetic Inheritance & Evolution group, headed by Dr Peter Sarkies. Through her placement Naomi has been working with Dr Sheeba Singh, a postdoc within the group, on her current project which has already provided evidence to support an evolutionary prediction from Peter's recent Nature Genetics paper, discussed in our article The Hidden Dangers of Epigenetic Gene Regulation.
The work Naomi has been contributing to uses engineered E. coli bacteria to test the co-evolution of DNA methyltransferase, a DNA modification enzyme which damages DNA, and ALKB2, the DNA repair enzyme. This finding gives us a greater understanding of what is happening during gene regulation and could someday help create solutions for targeting faulty gene regulation in cancer cells.
Speaking with Sheeba it's clear she enjoyed the experience, "It was great that Naomi was energetic and excited to use the skills from her course in an applied way, she was an ideal aid and was always on time and didn't miss one day of placement. First impressions do really matter and Naomi was great from the start, she really took time to understand things and share her feelings about the project." Carole Swan, Head of Operations, who was first contacted about the placement, states that "Sheeba was critical to the placement being a success."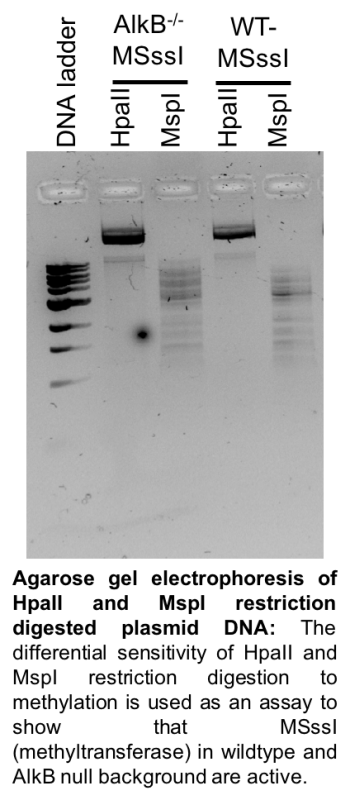 Naomi is one of six students who completed placements this year and the only student to get practical experience within a research institute, she told us that "The experience has helped with my PCR coursework and has changed how I look at science and renewed my interest in research and discovery," her favourite part of the placement was "getting to look at actual DNA and use the gel electrophoreses equipment and see the bands moving in real time (image to the left), allowing me to practically experience what we'd been reading about in books."
Peter discussed the process "I would definitely recommend the programme; the sustained experience is very worthwhile with greater benefits for both us and students. Considerations for the projects are that students want to gain practical experience and that the experiments need to be relatively easy, allowing results to be achieved within the time the student is on placement. It's also important that the work they are doing has a clear contribution towards a bigger project. With Naomi, it was great as her experiments could be done without too much prior lab experience and her project was integrally embedded into Sheeba's work so her results have been really useful for the lab."
Naomi's placement was part of a pilot by the Department of Education who plan to roll out student work placements for technical education qualification (T-level) students in 2020, the scheme was led by a social integration charity, The Challenge, and involved CONEL and two other Further Education colleges in London. At MRC LMS we find great benefit in hosting students, we have annual Undergraduate Summer Studentships and often host Nuffield Placement students.
This work has greatly helped with Sheeba's project and Sheeba will continue to generate evidence to support their hypothesis by conducting similar experiments on other organisms. Naomi will go on to study BSc Sports Science at St Mary's University in September. We have thoroughly enjoyed hosting Naomi at MRC LMS and she has made a proportional impact to the work of the Transgenerational Epigenetic Inheritance & Evolution group. We all wish her future success.
CONEL published a piece on their website about Naomi's time at LMS and her help with Sheeba's project, Science student makes ground-breaking discovery in fight against cancer.