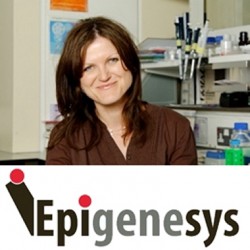 Petra Hajkova wins Young Investigator grant
CSC Reprogramming and Chromatin Group Head Petra Hajkova has been awarded a Young Investigator's Research Integrating Systems Biology and Epigenetics (RISE1) grant. She is one of only eight young Principal Investigators in Europe to be selected for the fund.
The EC-funded Epigenesys Network of Excellence is a research initiative aiming to advance the interface between epigenetics and systems biology.
A major focus of the initiative is to contribute to the map of the human epigenome, an undertaking a magnitude greater than the sucess of the human genome project. Many of the disease challenges facing modern medicine have epigenetic components, and understanding how environmental factors impact on our epigenome has huge implications for treatments in the 21st Century.
On hearing that her group had been selected for the initiative, Petra said she was, "overjoyed."
Epigenetics is one of the Clinical Sciences Centre's main research areas of focus. With strongs links to groups across Europe and beyond, the CSC has an excellent reputation as a leader in this area. Commenting on Petra's success, CSC Director Professor Amanda Fisher said, "Winning a RISE award is an outstanding achievement that places Petra's work at the core of european excellence in epigenetics research".
SJ