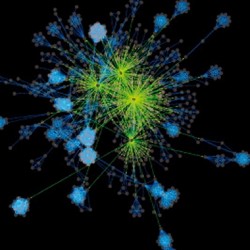 New research section launches in the CSC
An organism is more than the sum of its parts. But reducing the complex phenomena of biology down to their component interactions and molecules has been the driving force behind past progress in biomedical research. This reductionist approach has led to some of the most influential medical breakthroughs of history. But recent advances in technology are now allowing scientists to develop an improved understanding of biology at the level of whole cells, complex tissues, and organisms.
The MRC has endorsed the establishment of a new research section at the CSC to fully exploit the most innovative techniques in computational biology and imaging. The new Integrative Biology section will complement the existing research and bring new expertise and direction to the CSC.
Being able to make full use of the power of modern computational methods could be the key to pushing biomedical research forward. "The amount of data that we can harness is absolutely amazing," says Ana Pombo (Chair of Integrative Biology). "In the last few years, it's become very important to be able to understand and study these massive datasets. A niche has emerged for people who can combine insight into biological questions with an awareness of the mathematical computational methods, in order to mine all of this information."
The new section will promote collaboration within the CSC, throughout Imperial College London, and globally. "It will form a triangle of knowledge with the other sections," says Pombo. "It will have its own identity and direction, but we will foster synergies with other groups." Professor Amanda Fisher, Director of the CSC, said, "This is a tremendous opportunity for the CSC to harness the strengths in Imperial College and existing qualities within the two current sections, to be able to derive information from complex datasets." Ana Pombo's recent Cell Stem Cell paper is a testament to the potential of global data sharing, something the researchers are keen to encourage. Recruiting fresh expertise to develop the research has already begun, with Boris Lenhard (Computational Regulatory Genomics) already installed and several other group heads soon to arrive.
This section will ensure that the CSC can maintain its position at the forefront of innovative biomedical research, and will provide an ideal environment in which to train the next generation of scientists in the UK. "We want the new PhD students to be living and breathing this kind of science," says Pombo. "For the new young investigators, there is no way back. It's unlikely that they'll be able to run a lab without using computational biology, so it's exciting to nurture this rich multidisciplinary environment."
An integrative approach and high-throughput data gives researchers the chance to look not only at the tiny detail, but also the broader picture. "It gives you a choice," explains Pombo. "You can study a single gene, or you can study all of them, and then you can let others mine your data with their own questions. The opportunities are out there – we can do almost anything."
-AL