Tell us about your role
I am a postdoctoral research assistant and lab manager in the Germline and Pluripotency group at MRC LMS in London. At the moment, the main challenge is getting myself to work! My usual means of transport, the 'Oxford Tube' coach, was cancelled early on in the pandemic. However, cycling between the train station and home has proved fun. Occasionally I carpool with a colleague, which saves money on train tickets.
How have you coped with working from home?
I found working from home surprisingly straightforward, if not easy. I am lucky enough to have a spare room which became an office. I like to have structure to my working day, so it was relatively easy to establish one. I found myself rather productive, which meant I ran out of data for analysis and reanalysis quite quickly. I also found more time and strength (my commute on a good day takes almost four hours in total) to catch up with reading papers I'd bookmarked but never got round to.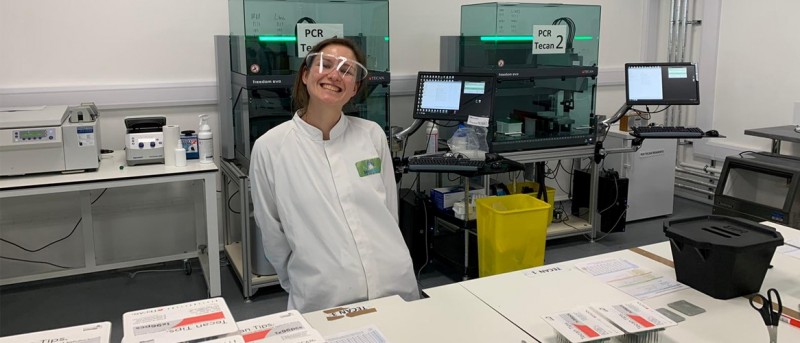 Have you had any new experiences?
Immediately after lockdown was imposed, I applied for voluntary work in COVID-19 testing and helping the community. Before I could even begin to feel restless, I was called up to help with testing in the Lighthouse Lab in Milton Keynes. I did this for eight weeks and found those two months extremely rewarding and absolutely exhausting. I still had my obligation to the group and the Institute so giving a journal club after two consecutive 12-hour night shifts was something I never imagined I would be able to do!
Do you have any tips for working at home?
I don't think I'm in a position to give any tips, as my experience of working from home was rather unusual. What helped me was creating a routine, as well as being honest with myself (and not too hard on myself) when I was not coping. To balance what, in practice, was two jobs, I did a lot of morning running. One of the races I had signed up for in March was postponed, so I now have two half marathons scheduled for just a week apart in October. This has given me extra motivation to train properly. Three months in and so far, so good. Fingers crossed, my October runs will actually happen.
This story was originally published on the UKRI Infohub. You can read more about Gosia's emergency COVID-19 response here.