We are extremely proud of all our colleagues who are contributing to the COVID-19 emergency response. We want to celebrate them by highlighting their contributions over the next few weeks in this mini-series of 'LMS Emergency Response to COVID-19'. Today we want to introduce you to Alaine Berry & Ben Statton.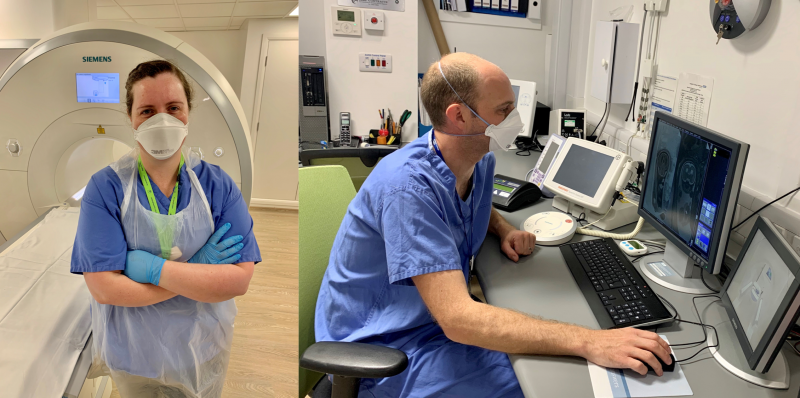 What is your current role within the NHS in the COVID-19 response?
Whilst all research MRI scanning is suspended and most elective clinical scanning has been postponed, Ben and I are continuing to provide the fetal MRI service for the Imperial College NHS Trust. The Centre for Fetal Care, based at Queen Charlotte's & Chelsea Hospital on the Hammersmith Hospital campus, work with us to arrange the MRI appointments and relay results back to the patients.
How do you envision that current role might change?
It is hard to predict when work will return to 'normal' for us.  When our research and the remainder of our clinical scanning does resume we will need to adjust to the increased use of personal protective equipment when dealing with patients and volunteers attending for MRI scans.  There will also be the need to adapt some of our workflows in order to maintain social distancing recommendations when working with our LMS colleagues and Imperial College collaborators.  We will also have to factor in more time for equipment cleaning between cases.
What is your research at the LMS about?
Ben and I are Research Radiographers at the Robert Steiner MRI Unit. We work with Dr Declan O'Regan and the Computational Cardiac Imaging group whose research includes image segmentation and motion analysis, automated adverse event prediction in heart disease, genotype-phenotype modelling and software development. We also work with Dr Oliver Howes and the Psychiatric Imaging group, whose research focuses on the molecular mechanisms underlying mental illnesses, and we collaborate with teams on other projects such as 4D aorta flow, MR Fingerprinting and oxygen enhanced MRI. We also provide some clinical services to the NHS including cardiac MRI and fetal MRI.