We are extremely proud of all our colleagues who are helping in the national COVID-19 response. We want to celebrate them and their achievements by introducing you to them over the next few weeks and how they are helping to fight COVID-19 in this mini-series of 'LMS Emergency Responses to COVID-19'. Today we want to introduce you to Dr Antonio de Marvao.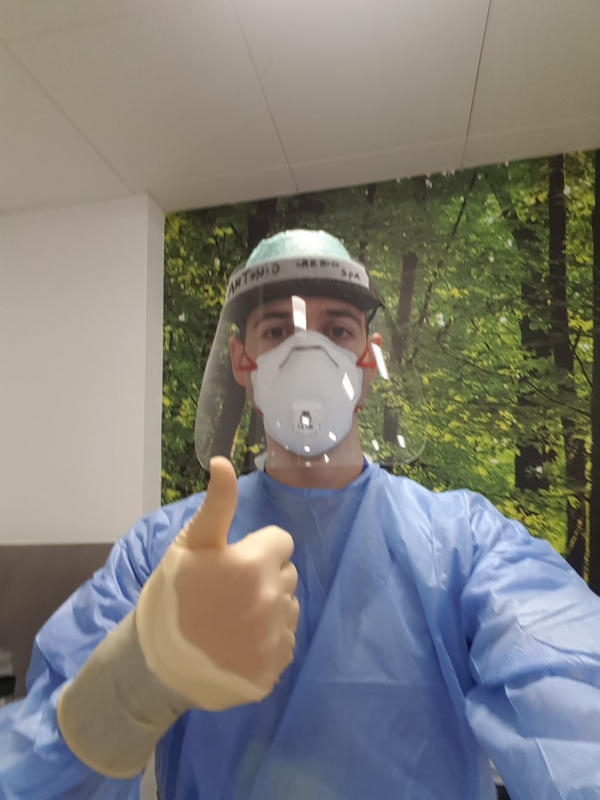 What is your current role within the NHS in the COVID19 response?
Before the onset of the COVID-19 pandemic, I split my time between research at the LMS, as a Chain-Florey Clinical Lecturer in Cardiology, and clinical work at the Royal Brompton and Harefield NHS Foundation Trust; the largest specialist heart and lung centre in the UK. Clinically, I specialise in the care of patients with Inherited Cardiac Conditions and in advanced multi-modality imaging (cardiac CT and MRI).
As part of the national response to COVID-19, non-emergency cardiac tests and procedures had to be postponed. Royal Brompton will see an increasing number of COVID-19 patients transferred from other London hospitals, due to the clinical expertise, particularly respiratory and critical care expertise, available on site. A great deal of provision has been made to deal with a significant rise in cases, although other patients needing the hospital's expert care continue to be treated.
The intensive care unit has been greatly expanded and I was redeployed from Cardiology and research to this unit, to support the Intensivists looking after COVID-19 patients. The Royal Brompton Hospital is one of only five Extracorporeal Membrane Oxygenation (ECMO) centres in England for adults with severe acute respiratory failure. ECMO is a very specialised machine that oxygenates the blood drained from the patient, which is then returned to the patient when their lungs are unable to do so. This change in clinical setting required a very intensive period of up-skilling and ongoing training to be able to effectively help the ITU team deliver critical care to COVID-19 patients. The learning curve is steep and moving from a senior role in one speciality to a fairly junior position in another takes some getting used to but the team spirit, mentoring and sense of purpose have been incredible.
Is there anything you have learnt from your time doing research that you are applying now back with the NHS?
I gained extensive experience in supervising and teaching junior colleagues which allowed me to take a leading role in re-training the hospital's staff in how to provide safe advanced life support in the setting of COVID-19. I also contributed to a teaching demonstration that was taken up by several other Hospital Trusts and has been watched online by over 70,000 people in just a few days.
https://www.youtube.com/watch?v=NXLrIWSf2Y0&feature=youtu.be
What is your research at the LMS about?
I joined the LMS in 2011 on a Chain-Florey PhD fellowship. I have since carried out research focusing on mathematical modelling of the heart, using cardiovascular MRI and artificial intelligence techniques to understand the genetic and physiological mechanisms that underpin cardiovascular disease. I have received national and international awards for my work developing artificial intelligence algorithms for medical imaging analysis, computer assisted diagnosis and outcome prediction. These have been applied in the study of hypertensive heart disease, aortic stenosis, amyloidosis, pulmonary hypertension and inherited cardiac conditions. My interest in health economics, also, led me to complete an MBA at Imperial College London Business School in 2017.
Is there anything you want to share with others about your experience 'on the front line'?
In just a few weeks the NHS has gone through one of the biggest transformations in its history and I think everyone involved with the organisation can be immensely proud of what has been achieved. It's also heart-warming to see so many colleagues volunteering to the clinical frontline from academia, industry and even retirement at this time of great need.  A huge proportion of interactions between healthcare workers and patients and within clinical teams moved online and entire patient pathways and working practices were redesigned in a matter of days to ensure that as many patients as possible receive the care that they need. It's my hope that after the COVID-19 crisis is behind us, that this collaborative, innovative, can-do spirit will be preserved for the ongoing benefit of our patients.