The MRC London Institute of Medical Sciences postdoc committee were recently awarded the Team Award from the Imperial Postdoc and Fellows Development Centre (PDFC). The award recognises teams for their outstanding contribution to postdoc life and for creating an engaged community as a result of teamwork.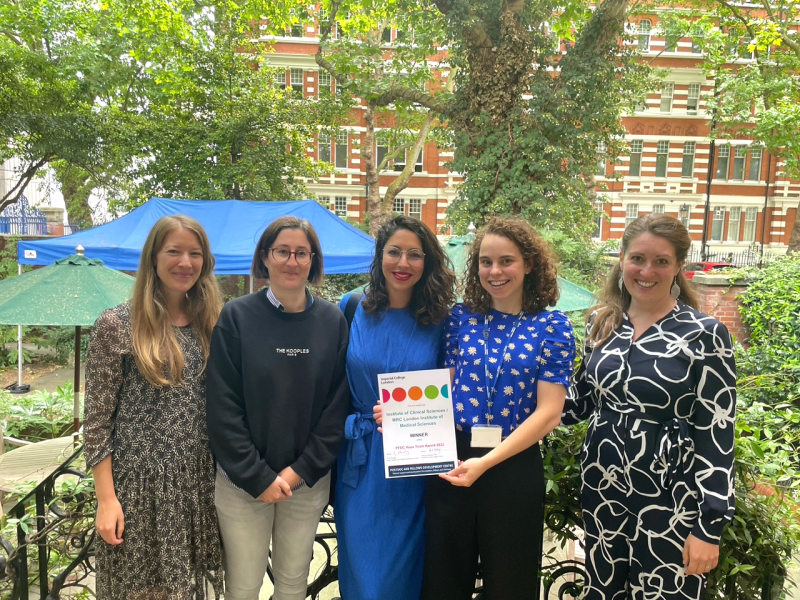 On winning the award, committee member Dr Emily Doherty said, "I am proud to be a member of the LMS postdoc committee and very grateful to those that nominated us for the PFDC Team Award! Every member of the committee has worked hard to create positive academic and social opportunities for not only postdocs, but also the wider LMS community. It is rewarding to be part of such a great team and I'm looking forward to being involved in our next events and projects! I'd highly recommend joining the team to any LMS postdoc considering it." 
Postdoc Champion and LMS Group Head, Dr Helena Cocheme, who supported the team's nomination said, "As a team, the postdoc committee have overcome the recent challenges of the pandemic and contributed to the spirit of community amongst postdocs, by providing training, networking, social and engagement opportunities. Their activities and initiatives have had wide-reaching benefits for the whole institute."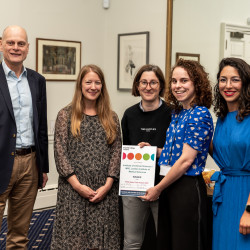 Head of HR, Sharon Citrone described the postdoc committee as "an essential part of LMS life" while Dr Dirk Dormann, Head of the LMS Microscopy Facility, praised the team for promoting "a culture of learning and collaboration… not just for the postdocs, but for the entire LMS community". Of the award, Dirk said this was "a great acknowledgement of their hard work". 
The postdoc committee run a wide variety of events for the LMS including the Happy Hour, a regular post-work social event, and monthly coffee mornings for people across the Institute to connect and network. They hosted regular seminars during the early stages of the pandemic such as the remote "WiPs" in which speakers from across the Institute present their Work in Progress. They have also launched monthly "Meet the Postdoc Committee" lunches and help to welcome new postdocs to the LMS through a buddy system. Other events they organise include skills development workshops, such as image analysis workshops in collaboration with the Microscopy facility, which are valuable sources of training for postdocs. Members of the committee are also actively involved in other departmental activities, serving on the Pandemic Response Team, Greening LMS, Athena Swan, and the EDI committee.