Last week, hundreds of scientists stepped out from the lab and headed to the pub in nearly 400 cities across 24 different countries around the world to talk about their research with the public at this year's Pint of Science festival. The largest international science festival aims to engage the public with relevant science in fun and accessible ways in a familiar environment.
2019's festival saw the MRC London Institute of Medical Sciences host its inaugural Pint of Science events to showcase the exceptional research our researchers are doing with the local community and partners. Eight of our researchers ranging from PhD students, to postdocs and Group Heads left their lab coats behind and gave incredible talks to the audience over the three evenings.
PhD students Ben Lewis & Irene Robles Rebollo started the festival off on the first night which celebrated our Epigenetics research section. We learnt about G-quadruplexes, or DNA knots, and how to image them, and also about how cells decide when to express certain genes or not using a fantastic Game of Thrones analogy.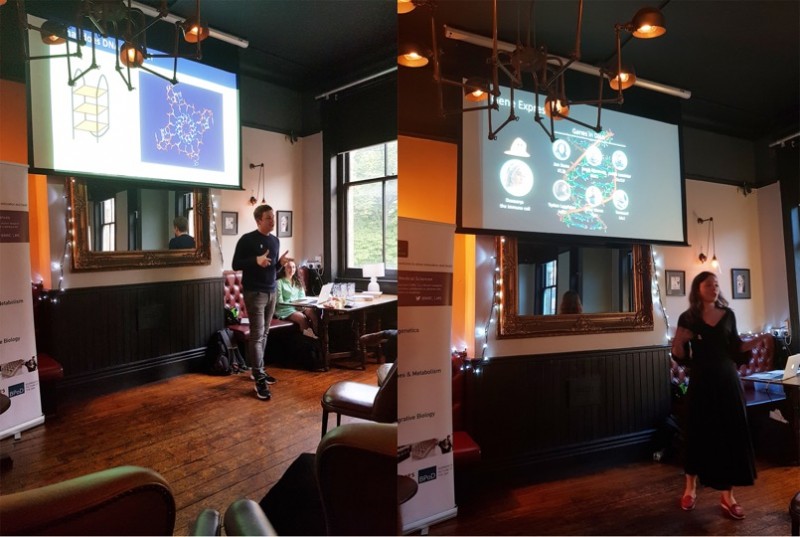 The second night was showcasing the research in the Genes & Metabolism research section. PhD student Eva Kane shared her research about she was using stem cells to produce beta cells to try and cure diabetes. Following that, PhD student Laura Martin Coll and Postdoc Siamak Redhai gave a brilliant joint talk about the humble fruit fly and why it is so integral to medical research.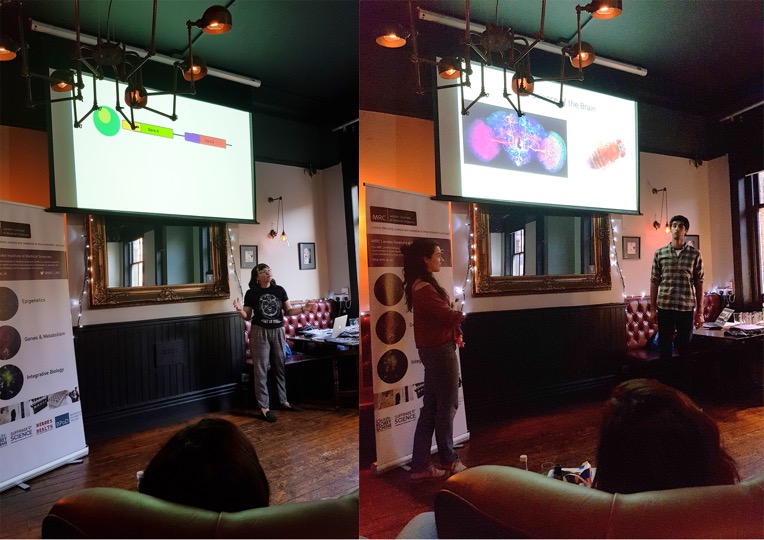 The final night was all about the Quantitative Biology research section. Postdoc Beth Pennycook spoke about the cell cycle and how a cell makes that decision to divide or not, but also what happens when it goes wrong. Our final speaker of the festival was Andre Brown, Head of the Behavioural Genomics Group, who shared a fascinating talk all about how nematode worms; their behaviour and how they are helping with medical research.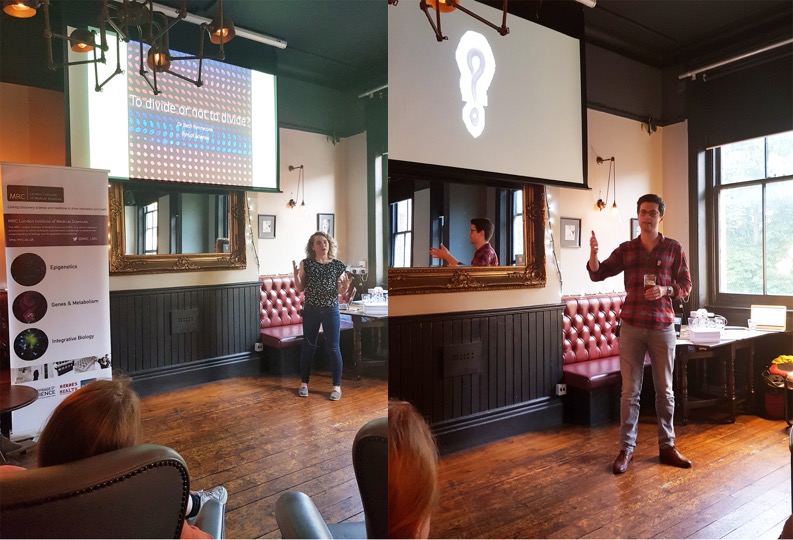 Our first Pint of Science event was a success with all three nights being completely sold out of tickets, but more importantly we got to share a small proportion of the research we do here at the LMS with our local community. It was great to see so many people engaged and asking some fantastic questions too about all our topics.
We want to say a huge thank you to all our speakers, volunteers and our venue The Defector's Weld for helping us put on a fantastic event. A final thank you to everyone who attended our first Pint of Science event and we hope you took something away. We hope to see you the same time next year ready for Pint of Science 2020.