It has been two years since the Medical Research Council (MRC) signed the Technician Commitment which pledges to support the visibility, recognition, career development and sustainability of the technical workforce across MRC institutes. On Monday 18 November, our technicians were invited to the inaugural Research Institute Technicians Symposium held at The Francis Crick Institute. Technicians and science support staff from across six research institutes gathered for an event focussed on career development for technical staff.
The morning session was jam packed full of talks from technicians at various stages of their career paths. Dr Cordelia Langford of the Wellcome Sanger Institute and Prof Laura Bowater of University of East Anglia both shared their career journeys from 'troubled teens' to technicians to director and professor respectively. Both shared the personal and relatable challenges that they faced, but also the opportunities they took and why in order to reach the levels that they have done. For example, Bowater shared how the opportunities she had been given as a technician to get involved with science communication and public engagement activities helped her to realise her love for teaching. This spurred her on to gain her Professorship, design online courses and publish popular science books because of her passion and background in science communication and antimicrobial resistance. All of this from developing her career and stepping outside of her comfort zone learning new skills whilst working as a technician.
Each of the research institutes present at the symposium also had a technician give a shorter talk about their journey and experience as a technician. Those speakers were Fatemah Abolverdi and Tasnim Ali from The Francis Crick Institute, Sophie Able from the John Innes Centre, Jessica Podd from the Babraham Instiute, Dr Tatiana McHardy from The Institute of Cancer Research, Julie Roberts from the MRC and Peter Keen from the Wellcome Sanger Institute. All shared insights into the institutes they were representing and the various qualifications they had taken or were planning on taking to develop their career, as well as what the role of technician's meant to them. Fatemah and Tasnim spoke about their experience as laboratory technician apprentices at The Crick. They both shared more about the opportunities they have received thanks to the scheme, and have since become permanent members of staff and are looking to further their careers with additional qualifications.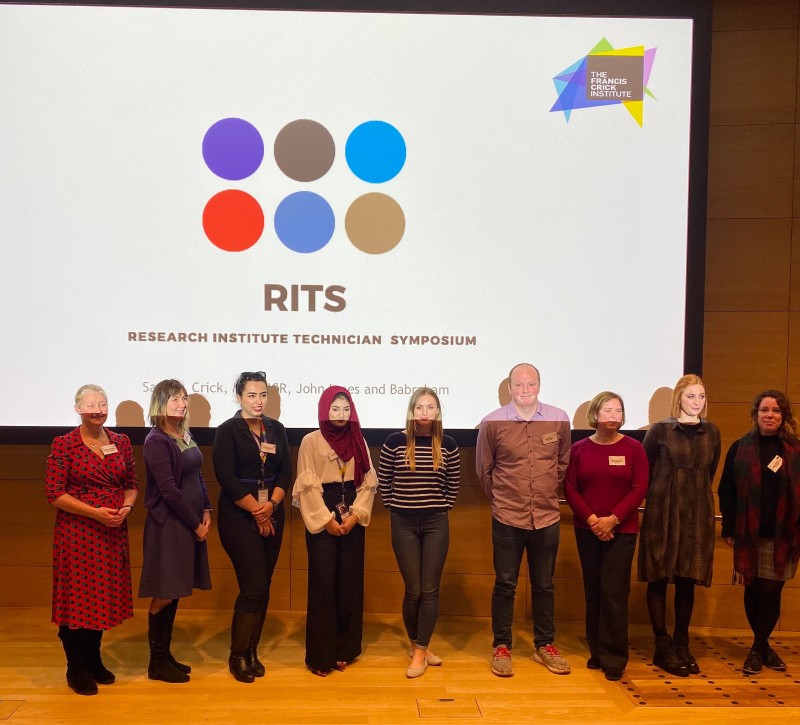 The afternoon session kicked off with a presentation by Kelly Vere of the Science Council. Kelly spoke about the impacts that the Technician's Commitment has already had in just two years highlighting different events that have come from the initiative, to international interest. For example, the Royal Society of Chemistry's journals now have a prerequisite for their publications that any technical staff that have contributed to the work must be acknowledged. She also reemphasised the reasons why the Institutes that were present at the symposium and many, many others signed the Technician's Commitment particularly about valuing technical roles as a career option, highlighting the career development pathways for technicians and the need to replace the technical talent as 45% of technicians are due to retire in the next 10 years. It was exciting to see the effects that the commitment was having already. This was followed by two workshops; one from Career Consultant Susie Edwards and another from Leadership Skills Facilitator Stephanie Allen.
The Research Institute Technicians Symposium is sure to be the first of many of these events that will be held in the future. However, this particular event was a fantastic start to get technicians and science support staff to be thinking about where they can go with their technical careers and see just some of what they can potential achieve by getting outside of their comfort zone and being proactive to get training and other opportunities. Together, we will continue to support and celebrate the development of our technical workforce, and this event has given us lots of 'food for thought' about new initiatives and events we can provide for our own colleagues here at the LMS, so they can see themselves and be seen by others as "more than just a technician".