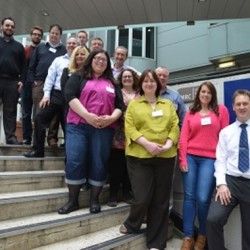 Senior MRC administrators get a taste of CSC research
The diversity of CSC research was recently shared with a group of administrators from MRC Head Office (Swindon), who visited the Institute on Monday 24th June 2013 during MRC Open Week.
After the visit Geradline Clement-Stoner (MRC Business Information Centre) said, "it was such a privileged opportunity for us to see MRC researchers in their environment. I am very grateful to them for taking the time to talk us through their research and the methods they use in a way that was understandable to non-scientists." And Dave Parkin (MRC BIC agreed), "Thought provoking topics on a variety of themes, all of which helps me to understand more of what we are trying to achieve as an organisation."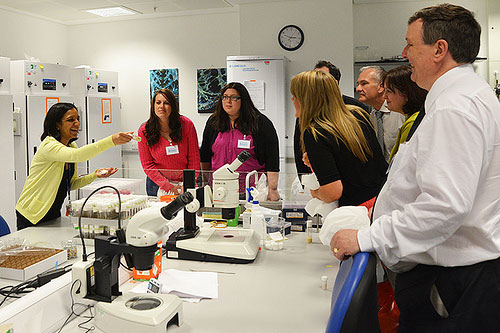 The programme – organised by CSC's Finance department (Mohammad Famili, Rick Bates) and HR team (Sharon Citrone, Saima Mirza and Becky Elston) – introduced around twenty senior staff to a tour of the labs and facilities.
Dr Bhavna Chanana of the Gut Signalling and Metabolism Group explained how fruit flies, Drosophila melanogaster, are used to understand how appetite and metabolism works at the level of cells and molecules in animals. How does our brain talk to our bellies and vice-versa? Fadri (Meiosis Group) introduced the visitors to the tiny transparent nematode worm, C. elegans, which his group uses to study how eggs and sperm are formed.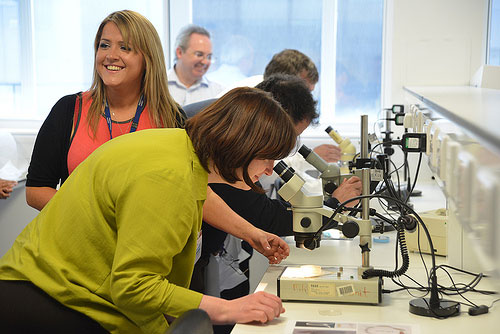 James Leiper (Nitric Oxide Signalling) explained the role nitric oxide in human metabolism. Inhibiting the production of this signalling molecule is associated with heart and kidney failure, and even type-2 diabetes. Mark Ungless (Neurophysiology Group) showed guests how he studies the brain to better understand neurodegenerative disorders like Parkinson's disease. These lab visits were particularly enjoyed by Mark Allinson (MRC BIC), who "really enjoyed the lively discussions in the neuro lab" and "James Leiper's superb presentation that made complex science clear and understandable."
Simona Parrinello (Cell Interactions and Cancer) elucidated her team's work in trying to understand how cells – especially stem cells – talk to one another in order to repair damaged tissue. And Till Bartke (Chromatin Biochemistry) highlighted the importance of understanding the interplay between genetics and epigenetics in regards to cancer formation. The group also had a chance to look at samples of the cell types used by CSC scientists to better understand health and disease thanks to the Microscopy Facility led by Dirk Dormann.
The feedback from the visitors demonstrated the importance of these kinds of communications initiatives across the MRC. As Sally McKenzie (MRC BIC) noted, "It was a particularly valuable experience for me, since my existence in the MRC has been fairly insular to date and this helped greatly to fill in another part of the overall jigsaw. I feel privileged to have been able to participate and gain this insight to the front end where all the exciting things happen."
BM