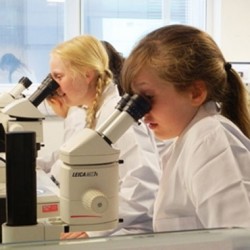 School children get taste of life in lab
With up to 70% of state-funded schools lacking the equipment for basic science experiments and with some children being only allocated 4p for science resources, it's evident that some aspects needed for a good education in science are lacking. However, this by no means quenches the enthusiasm showed by children who attended the CSC's MRC Centenary Open Day for Schools.
"That was the best science trip ever!" commented 10-year old Madelyne from Bramley School after visiting the CSC on Friday 21st June. Over 50 pupils in years 4–6 learned about the basic principles of microscopy and got the chance to look at cells used by scientists to better understand health and disease through the microscope. From 20–26 June 2013, MRC units, centres and institutes across the UK opened their doors to the local community to engage the public in their research in celebration of the MRC's 100th birthday.
"I found out how cancer works," said 11-year old Georgina. "I learnt that the fruit fly maggots breathe through their back end," said 10-year old Keria. "I learnt that white cells eat bad bacteria," said 9 year-old Kimani Jack from St Mary's Primary in Finchley. "I learnt that there are bacteria in yoghurt," commented 9-year old Chloe. And 9-year Mahliha was surprised to discover the power of microscopy. "I never knew you could use microscopes to help answer questions," she said.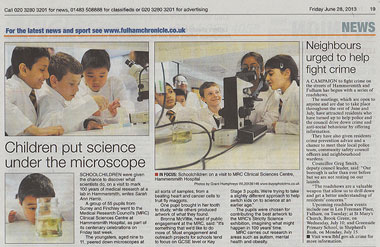 Pupils also got the chance to explore their own objects under the microscope, which included hair, ribbons, salt and their fingers. "I loved taking photos of my tooth," said 10-year old Maisie, a pupil who produced a winning entry for the MRC Centenary exhibition, Strictly Science: keeping one step ahead. Maisie's artwork was based on the negative effects of smoking on health. She made a giant papier-mache packet of cigarettes, which explained the health risks of smoking.
Children were supervised to use microscopes by a team of ten scientists, who helped explain how the CSC uses flies, worms and other model organisms to better understand human health and disease. "This was definitely beneficial to the children," commented Keri Smith, a teaching assistant from Bramley School; "it inspired them and generated conversations and questions." Anna-Maria Mullen, a parent who attended with St Mary's primary said, "This visit has helped them understand what scientists do, which will help them take a greater interest in the world around them."
The MRC Centenary Schools Open day was organised by the Microscopy and Public Engagement, Media & Grants Facilities. Thanks to volunteer scientists: Bhavna Chanana, Selina Raguz, Lucy Penfold, Duncan Chapman, Fiona Leiper, Eleanor Sandhu, Alex Sardini, Piera Sabbattini, Athena Georgilis and Joanna Santos.
The Hammersmith & Fulham Chronicle published an article from the open day on Friday 28th June (pictured above)
BM