The time had come for the biggest event of the summer!
On 26 July, LMS researchers, students and staff made their way out to the Wormwood Scrubs Arena for the annual LMS rounders tournament.
Was all the training going to pay off? Were the big signings going to perform? Were the favourites going to take the top spot? Or were the underdogs going to steal the crown?
The afternoon began with some teams warming up, and other teams still trying to recruit some last minute players before the transfer deadline passed. With the most teams that have ever entered the LMS rounders tournament, the first knock out round kicked off the day. There was no shortage of competition, tension and controversy with many games being drawn and going to a 'super over'. But one by one, teams were knocked out over the afternoon until it was time for the grand final: Team 1 vs Brounders.
As the second floor took on the fifth floor in the big finale, tensions were high – and that was just from the additional volleyball match that was going on on the sidelines between knocked out teams. Team 1 started strong, but in the end Brounders raised their game taking the title with a 6-3 win.
The LMS Rounders trophy was presented by Sharon Citrone, tournament organiser and Head of UK Rounders & Innovation (UKRI), to the captain of Brounders, Andre Brown.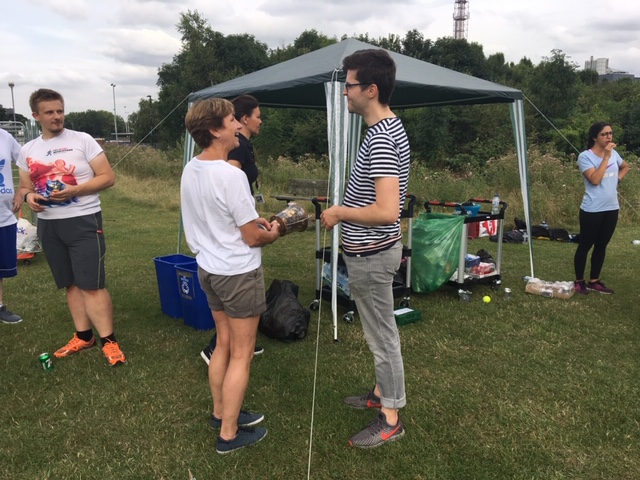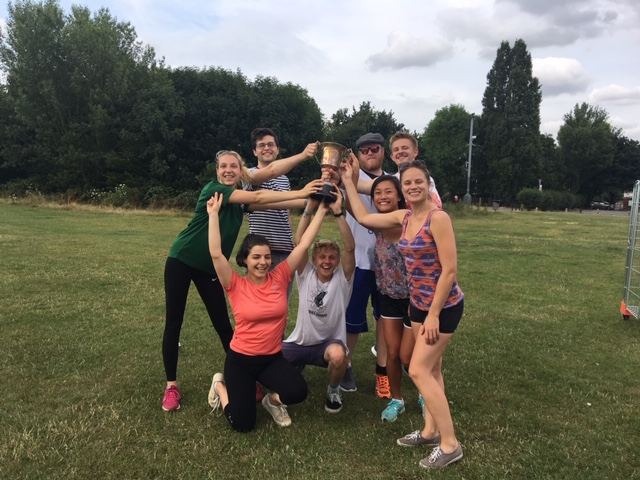 In our post-match interviews, we spoke to Team 1's bowler extraordinaire, Michelle Percharde about her post-tournament thoughts:
"Team 1" – or more accurately by the end "Team 2" gave a gallant effort and by the last matches – partly fuelled by practice, partly by some tins of cider – were on pretty good form. Sadly they were not quite practised enough to beat the overall victors but training on all accounts will be starting imminently for 2020…"
One of the new signings for 2019, Lucy Brown, spared a minute to share her thoughts:
"Having not been to an LMS rounders tournament before, I didn't know what to expect, but being the 1997 National Winner of the "Good Tryer" Award and a below average rounders player, this was something I definitely wanted to be involved in. On a personal achievement level, I made a new PB of not hitting a single ball, which I'm just really blown away by.  Being knocked out in the first round I must say was totally unexpected, given all the training, coaching and pre-tournament preparation we had done – I really thought that warm up-jog was going to secure it for us. I'm really proud of our team, Medical Rounders Council, and as everyone knows, there is a direct correlation between the amount rules there are, and the amount of fun that is had, and this tournament was no exception."
We also managed to grab a quick word with Brounders captain Andre Brown before the team headed off for their victory parade:
"The day was wonderful with good weather despite the rain in the morning.  We were learning the rules as we went along, so in a sense it wasn't so different from the process of doing science.  Volleyball turned out to be a nice addition so we might try to revive that as a regular event.  Sharon asked us to bring the cup back cleaner than we received it, so that's Tomek's remaining time sorted (he's a summer student in the lab).  Speaking of the trophy, I need to put in an urgent request to the space committee to find a home for our newest metallic lab member.  I'm sure they'll understand the importance."
For more coverage from the event, check out our news feed and photo gallery:
Annual rounders competition @MRC_LMS. I'm sure it'll be good natured fun and not get too competitive… pic.twitter.com/YZyS4cRt68

— Harry Leitch (@HGLeitch) July 26, 2019
Our annual #rounders tournament has started! @MRC_LMS @imperialcollege pic.twitter.com/KenxdWAJfH

— Hakan Bagci (@hknbgc) July 26, 2019
⁦@MPercharde⁩ ⁦@MRC_LMS⁩ pic.twitter.com/aOqSrnSXA0

— Alexis Barr (@Alexis_Barr) July 26, 2019
⁦@HGLeitch⁩ ⁦@MRC_LMS⁩ pic.twitter.com/VOVZPLnLiH

— Alexis Barr (@Alexis_Barr) July 26, 2019
⁦@HGLeitch⁩ ⁦@MPercharde⁩ and us vs ⁦@aexbrown⁩ in the Final ⁦@MRC_LMS⁩ rounders. Game face. pic.twitter.com/z4QgnbgqlT

— Alexis Barr (@Alexis_Barr) July 26, 2019
Seconding it turns out in the end not winning, but next year it's on! @MRC_LMS rounders tournament @Alexis_Barr @kylelmorris @HGLeitch https://t.co/1eUGPN7URu

— Michelle Percharde (@MPercharde) July 26, 2019
— Alexis Barr (@Alexis_Barr) July 26, 2019
For the record, @erenkad totally admitted last night that I did make that rounder. #notbitter #stillwonbut

— Alexis Barr (@Alexis_Barr) July 27, 2019