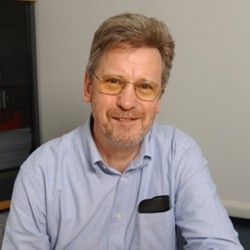 CSC Administrative Director receives MBE
Lindsay Green, Administrative Director of the CSC, has been awarded an MBE for services to Science.
Commenting on the honour, Lindsay said: "I am not sure I deserve it above many other people. I got the letter in mid November, I recall after a visit to the dentist! It was hard to keep it quiet and the only people I told in advance were my wife (who was delighted, although her immediate reaction was to burst into tears) and my mum."
Lindsay has been at the CSC as Administrative Director since 1999: " I am lucky enough to have done a number of jobs working for the MRC but this current job is both the most interesting and the most challenging: no two days are ever the same. Embedding the CSC within Imperial's Faculty of Medicine was pioneering when the CSC was originally established and it means I have a lot of interactions at many levels with colleagues in Imperial. I have very much enjoyed this aspect of my job, not least because, while there have been legitimate differences of view from time to time, I have always found within Imperial a willingness to engage constructively to find solutions which work in the best interests of both organisations."
Simon Watts
This is taken from an article on the Imperial College website.