Deborah Oakley
There can be power in simplicity when it comes to communicating science. A startling image of a fruit fly's brain and gut caught the attention of judges at the Imperial Innovations #ArtofResearch competition last week. The image, produced by postdoc Dafni Hadjieconomou of the MRC Clinical Sciences Centre (CSC), ranked second out of 261 entries.
Also among the judges' top 15 images was a photograph depicting an entire fly gut produced by the CSC's PhD student Clare Pilgrim. Both photographs featured in a public exhibition at Imperial College London's Business School last week.
In Hadjieconomou's image a colour-coded network of nerve cells (green) connect the fly's brain and gut (both red) via its oesophagus (blue). A visitor at the exhibition said it was intriguing to see the transient activity – the 'thoughts' or 'feelings' – of the fly's nerve cells recorded in print. The canvas print from the exhibition will be sent to Hadjieconomou this week, and she was presented with a 3D printing pen at the awards ceremony.
Both Hadjieconomou and Pilgrim work in the CSC's Gut Signalling and Metabolism group and study the fruit fly Drosophila melanogaster. Pilgrim's image shows the entire gut of a fly larva (below). It was a successful week for the group, who also had work on guts, sex and tumours published in Nature.
The winning images were chosen by a panel of science communicators and artists with a science focus. First prize went to Arkhat Abzhanov for his image of an alligator embryo dissected from an egg.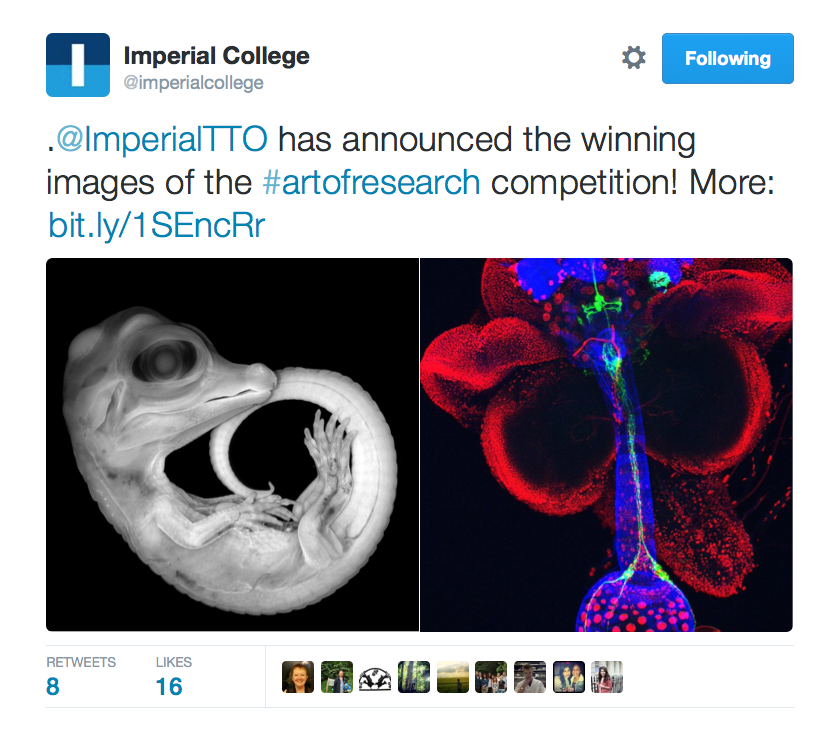 Imperial Innovations reported that judge Sabrina Taner, who sources pictures for the Wellcome Trust's image library, said, "There was a strong selection of images which was particularly impressive as the competition is only in its first year. We would be very interested in acquiring some of these images into our collections."
Attendees at the awards ceremony also remarked on the diversity of images shown. "These are all works of art and they all tell stories," said one audience member. He commented that it was interesting to see how photography can link objective science with the more subjective territory of art.
To see more beautiful scientific images, explore the CSC's Biomedical Picture of the Day.
Silence in the gallery before the crowds arrive
For further information, contact:
Deborah Oakley
Science Communications Officer
MRC Clinical Sciences Centre
Du Cane Road
London W12 0NN
T: 0208 383 3791
M: 07711 016942
E: