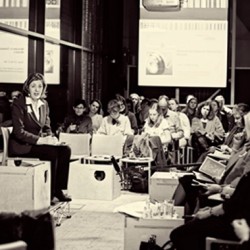 Leading female scientists pass on heirloom jewellery
Women are no longer expected to abandon their careers to have a family. Society demands a level playing field for men and women, and yet there are still very few women in positions of scientific leadership. To this day, only one British woman – Dorothy Hodgkin – has won a Nobel Prize for science.
The MRC Clinical Sciences Centre's Suffrage Science scheme champions women in science, encouraging women to strive for leading roles in today's scientific arena. In 2011, 11 exceptional women scientists were awarded bespoke jewellery heirlooms, hand crafted and designed by Central Saint Martins College of Art and Design. On 8 March 2012, leaders from across the life sciences came together as these heirlooms were passed on. Each of the first participants of the scheme became donors, handing their jewellery over to a woman scientist who they felt was particularly deserving of recognition. These recipients will be the guardians of the heirlooms for the next two years.
This video has been released to give a glimpse into the event and scheme:
"I am incredibly humbled and proud to be included among these women," said Georgina Ferry on receiving her heirloom. The heirlooms will be passed on again in 2014, with the release of the Suffrage Science Sequel publication. Below is the full list of heirloom donors and recipients: