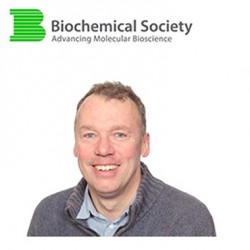 Biochemical Society recognise the CSC's Cellular Stress Group
The Biochemical Society announced today that the CSC's Professor David Carling (Cellular Stress Group) will give this year's Sir Philip Randle Lecture. David was awarded the prize for his group's work on the regulation of energy metabolism by the AMP-activated protein kinase cascade. The Sir Philip Randle lectureship is awarded biennially to scientists from any part of the world and the awardee is selected on the basis of their contribution to the understanding of mammalian metabolism. CSC Director, Professor Amanda Fisher, commented on the award: "This award rightly acknowledges Dave's pioneering work on understanding how cells respond to changes in energy balance." David is the third recipient of the award (the previous awardees were Prof. Sir Stephen O'Rahilly in 2011 and Prof. Gerald Shulman in 2013) and will present his work at a Biochemical Society meeting in 2015.
To view more information on the award click here.