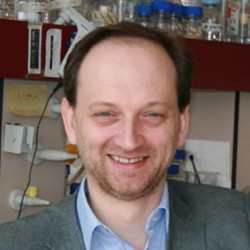 CSC Metabolic Signalling Group Head receives honour
CSC Metabolic Signalling Group Head Dominic Withers has been elected as a Fellow of the prestigious Academy of Medical Sciences.
Forty of the UK's leading medical researchers were announced to have been elected to the academy for 2011. They will be formally admitted as new members at a ceremony on June 29. On hearing the news, Dominic said: "I am honoured and delighted to be elected to the Academy. I have been lucky to work with a group of talented scientists in my lab over the last 10 years and this honour is due to their efforts. We are now making excellent progress in particular towards understanding the molecular mechanisms of the ageing process."
Of the new Fellows, President of the Academy Professor Sir John Bell said, "These new Fellows demonstrate the amazing talent present in the UK biomedical community. I am delighted that the Academy can recognise the vital role each one of them has played in delivering health and wealth benefits to the UK and beyond."
You can read more about the new Fellows of the Academy of Medical Sciences here.