The Women of the World of Science (WOWS) Allies and Mentoring Scheme – Africa was developed by the MRC London Institute of Medical Sciences (LMS) and African Research Excellence Fund (AREF).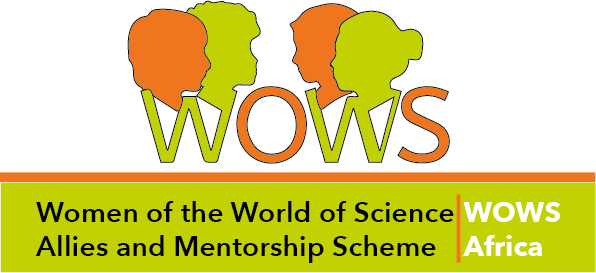 Science and innovation are rapidly expanding across Africa and we were keen to support the development and advancement of female scientists. Recent data suggests that fewer women consider applying for fellowship programmes to travel abroad because of caring responsibilities and cultural barriers. This is limiting the number of women progressing into scientific study and careers across Africa.
This pilot project has been developed to tackle this issue and support women to progress in science by providing a sustainable platform for meaningful mentorship between female scientists in Africa and the UK.
About the scheme
The pilot scheme will run March 2020-December 2020 with 8 handpicked mentor/mentee pairs.
The expectation is that the mentor and mentee pairs will meet each month using virtual tools (such as by Skype, Zoom, Whatsapp, phone or other).
Mentees selected for the scheme come from 6 countries across Africa including Ghana, Nigeria, Zimbabwe, Cameroon, South Africa, and Zambia. Their research areas include organic chemistry, HIV medicine, genomics and communicable diseases, tropical diseases, medical microbiology, crop science, immunology and infectious diseases, and malaria sequencing informatics. The mentees have been matched with senior female scientists from across the UK in their fields of research.
Through this scheme we hope that mentors will be able to provide advice and guidance from their own experience for the mentee, enabling them to take the next step in their career or development.
Aims of the scheme
To provide a sustainable platform for meaningful mentorship between female scientists in Africa and the UK.
To celebrate and utilise the global network of female scientists, including those united through the Suffrage Science Awards scheme.
Meet the Mentors
Below are the 8 mentors taking part in the WOWS pilot:
Professor Melinda Duer – University of Cambridge
Professor Janet Seeley – London School of Hygiene and Tropical Medicine
Professor Doreen Cantrell – University of Dundee
Professor Angelika Gründling – Imperial College London
Professor Dame Caroline Dean – John Innes Centre
Professor Jean Langhorne – The Francis Crick Institute
Dr Mara Lawniczak – Wellcome Sanger Institute
Professor Sarah Fidler – Imperial College London
Read more about the mentors here: WOWS_mentors
Meet the Mentees
Below are the 8 mentees selected to participate in the WOWS pilot:
Mulenga Chilumba Mwenda-Chimfwende – PATH-MACEPA
Danai Zhou – University of Zimbabwe
Chapwa Kasoma – African Centre for Crop Improvement, University of KwaZulu-Natal
Mercy Badu – Kwame Nkrumah University of Science and Technology
Owusu Dorcas-Ohui – Garden City University College
Ekenechukwu Ogbuagu – Nnamdi Azikiwe University Teaching Hospital Nnewi Anambra State Nigeria
Njunda Anna Longdoh – University of Buea
Estelle Mdaha Longla – University of Yaoundé, Cameroon
Read more about the mentees here: WOWS_mentees
More information
If you would like more information about the pilot or to express your interest in the expansion of the scheme in 2021 please contact Dr Peter Norsworthy.