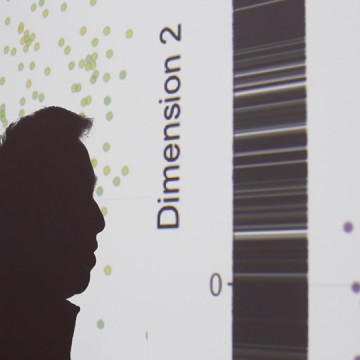 "Computing and Bioinformatics work in partnership with all the research groups and facilities at the LMS to deliver cutting edge science."
The facility provides IT and bioinformatics support for state-of-the art scientific equipment and research. It encompasses high performance computing facilities, an IT service desk and bioinformatics and informatics support services.
Computing Support Services
The service desk provides support for Windows, Linux and Mac platforms.
The High Performance Computer clusters provide parallel computing resources for intensive image processing, statistical and genomic sequence analysis.
There is a fast network access within the LMS to Imperial College computational facilities such as the London e-Science Centre and to the Internet.
The facility provides specialist computing solutions, and extensive backup and archiving services to support scientific equipment and research activities.
Bioinformatics Services
Bioinformatics advice and assistance for data analysis across the LMS research sections; encompassing support for genomic, proteomic and epigenetic data.
Informatics support for the development of biological databases and software applications.
Support for high performance computing and algorithm development.
Providing and co-ordinating LMS bioinformatics resources for researchers.
Training and support for data analysis, bioinformatics software, packages and databases.
Karimi MM, Guo Y, Cui X, Pallikonda HA, Horková V, Wang YF, Gil SR, Rodriguez-Esteban G, Robles-Rebollo I, Bruno L, Georgieva R, Patel B, Elliott J, Dore MH, Dauphars D, Krangel MS, Lenhard B, Heyn H, Fisher AG, Štěpánek O, Merkenschlager M. The order and logic of CD4 versus CD8 lineage choice and differentiation in mouse thymus. Nat Commun. 2021 Jan 4;12(1):99. doi: 10.1038/s41467-020-20306-w. PMID: 33397934; PMCID: PMC7782583.
Weiss FD, Calderon L, Wang YF, Georgieva R, Guo Y, Cvetesic N, Kaur M, Dharmalingam G, Krantz ID, Lenhard B, Fisher AG, Merkenschlager M. Neuronal genes deregulated in Cornelia de Lange Syndrome respond to removal and re-expression of cohesin. Nat Commun. 2021 May 18;12(1):2919. doi: 10.1038/s41467-021-23141-9. PMID: 34006846.