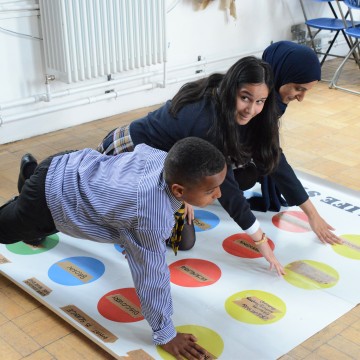 Contact Details
Telephone: 07395368733
"The Grants, Engagement and Communications (GECo) Facility coordinates institute-wide grant applications, organises engagement projects to encourage public interest in science, and coordinates all internal and external communications."
The GECo facility:
Manages all communications channels including the website and social media as well as internal newsletters for staff and students
Shares LMS research through writing news stories about our science and engaging with journalists
Encourages and supports LMS researchers to engage with wider audiences including: the public, the media, industry, policymakers, charities, funders, the local community and potential industrial and academic collaborators
Coordinates public engagement activities that foster dialogue between our researchers and wider public audiences including schools, community groups and artists
Develops partnerships to deliver LMS communication and engagement goals
Grants
The facility coordinates and advises on large, Institute-wide grants, as well as grants that support individual researchers. It works closely with the LMS Grants & Contracts Coordinator, Imperial College and UKRI to provide timely information on research grants for scientists and other grants of benefit to the Institute, such as those which support engagement or training opportunities.
Engagement
The GECo team develops, delivers and supports a range of engagement activities and projects. Some examples are:
More details on all these projects and all previous projects can be found on our Public Engagement pages.
Communications
The GECo facility co-ordinates an array of communications channels, in close collaboration with communications and press teams at UKRI and Imperial College London.
News – Keep up to date with the latest LMS News through our website. Accessible summaries of our cutting-edge research, reports on our latest events and partnerships and feature pieces from our colleagues can all be found in the News section. The facility maintains the LMS and affiliated websites including the Institute of Clinical Sciences.
Social media – Our social media platforms share the latest updates from across the LMS. The GECo team arranges social media takeovers which enable audiences to follow along and interact directly with our researchers. Our YouTube channel hosts a growing collection of videos to give you a sense of life at the LMS. We also use social media for some of our digital engagement projects.
Internal Communications – The GECo facility is responsible for a number of internal communication updates including a monthly newsletter and a weekly event update to ensure colleagues are aware of all opportunities to develop their careers and skills.
Biomedical Picture of the Day (BPoD): The LMS devised and curates this online platform which has shared a beautiful biomedical image every day since January 2012, each accompanied by a 150-word summary.
Illustrated Books: The latest edition of LMS illustrated books, called 'Pioneers of Progress', was published in March 2020. This shares the stories of pioneering women in STEM. Its sequel is due for publication in Autumn 2020. An earlier illustrated book, called 'Heroes for Health', was published in 2018 to celebrate 105 years of the Medical Research Council.