Dr Saravana Ramasamy has been elected as a European Molecular Biology Organisation (EMBO) Young Investigator in recognition of his scientific excellence.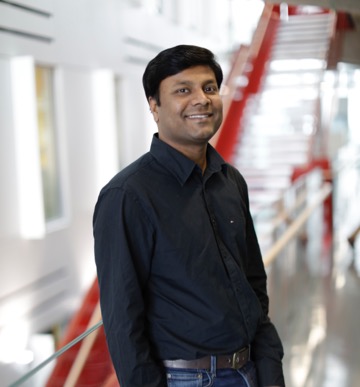 Saravana leads the Integrative Skeletal Physiology group at the MRC LMS, and is one of 30 life sciences researchers selected as EMBO Young Investigators this year. Saravana and his group are interested in exploring the novel functions of blood vessels during development and ageing.
The EMBO Young Investigator Programme supports life scientists who have been group leaders for less than four years and have an excellent track record of scientific achievements. Saravana joins an existing network of 73 current and 384 former members of the programme.
Maria Lepton, EMBO Director, spoke of this year's awards:
"We are delighted to welcome the new Young Investigators to the EMBO community and look forward to support them in leading and further developing their independent laboratories. These 30 life scientists have demonstrated scientific excellence and are among the next generation of leading life scientists. Their participation in the EMBO Young Investigator Programme will help them in this critical phase of their careers."
Saravana Ramasamy reflected on his award:
"The EMBO young investigator award recognises the research excellence of my team and provides remarkable training, networking, and collaborative opportunities which will be beneficial in taking our research to the next level. For me, it is a great honour to receive this award and be part of this scientific community."
EMBO is an organisation of more than 1,800 leading researchers that promotes excellence in the life sciences in Europe and beyond. The major goals of the organization are to support talented researchers at all stages of their careers, stimulate the exchange of scientific information, and help build a research environment where scientists can achieve their best work. 
The 2020 group of EMBO Young Investors comprises scientists based in 11 countries. A full list is below:
| | | | |
| --- | --- | --- | --- |
| EMBO Young Investigator | Research interest | Affiliation | Location |
| Alejo Efeyan | Interplay of nutrients, hormones and human disease | Spanish National Cancer Research Center (CNIO) | Madrid, ES |
| Andela Saric | Computational biological and soft matter physics | University College London | London, UK |
| Antoine- Emmanuel Saliba | Single-cell analysis of bacterial infection | Helmholtz Institute for RNA-based Infection Research (HIRI) | Würzburg, DE |
| Benjamin D. Engel | Interplay between organelle form and function | Helmholtz Zentrum München | Neuherberg, DE |
| Björn Burmann | Structural and dynamical adaptions of protein machines | University of Gothenburg | Gothenburg, SE |
| Camilo Perez | Molecular mechanism of cell wall membrane proteins | Biozentrum, University of Basel | Basel, CH |
| Christoph Zechner | Signal processing and heterogeneity in biological systems | Max Planck Institute of Molecular Cell Biology and Genetics | Dresden, DE |
| Debojyoti Chakraborty | RNA signatures in cell- fate decisions | CSIR-Institute of Genomics & Integrative Biology | New Delhi, IN |
| Elodie Segura | Biology of human antigen-presenting cells | Institut Curie | Paris, FR |
| Guoliang Cui | T-cell metabolism | German Cancer Research Center (DKFZ) | Heidelberg, DE |
| Hansong Ma | Genetics of mitochondrial DNA in evolution and disease | Gurdon Institute, University of Cambridge | Cambridge, UK |
| Ines Anna Drinnenberg | Evolution of centromeres and chromosome segregation | Institut Curie | Paris, FR |
| Julia Santiago | Plant signaling mechanisms | University of Lausanne | Lausanne, CH |
| Julian Stingele | Maintenance of genome stability | Ludwig- Maximilians- Universität | Munich, DE |
| Julien Duxin | Mechanisms of DNA repair and DNA replication | University of Copenhagen | Copenhagen, DK |
| Leila Akkari | Macrophages in cancer | Netherlands Cancer Institute (NKI) | Amsterdam, NL |
| Luca Tiberi | Regulation of neural stem cell and neuron biology in brain disorders and cancer | University of Trento | Trento, IT |
| Marc Güell | Translational synthetic biology | Pompeu Fabra University (UPF) | Barcelona, ES |
| | | | |
| --- | --- | --- | --- |
| Maria Robles | Temporal dynamics of proteins | Ludwig- Maximilians- Universität | Munich, DE |
| Martijn Luijsterburg | Transcription and DNA repair | Leiden University Medical Centre | Leiden, NL |
| Mina Gouti | Stem cell modeling of development and disease | Max Delbrück Center for Molecular Medicine | Berlin, DE |
| Nicholas M. I. Taylor | Mechanism and regulation of transport across the membrane | University of Copenhagen | Copenhagen, DK |
| Nicholas McGranahan | Cancer genome evolution | University College London | London, UK |
| Nuria Montserrat | Pluripotency for organ regeneration | Institute for Bioengineering of Catalonia (IBEC) | Barcelona, ES |
| Sam Behjati | Developmental origins of cancer | Wellcome Sanger Institute | Hinxton, UK |
| Saravana Ramasamy | Integrative Skeletal Physiology | Imperial College London | London, UK |
| Simon Bekker- Jensen | Molecular details of cellular stress responses | University of Copenhagen | Copenhagen, DK |
| T anmay Bharat | Structural cell biology of bacterial biofilm formation | University of Oxford | Oxford, UK |
| Verena Ruprecht | Cell and tissue dynamics | Centre for Genomic Regulation (CRG) | Barcelona, ES |
| Yen-Ping Hsueh | Molecular interactions between C.elegans and nematode-trapping fungi | Academia Sinica | Taipei, TW |