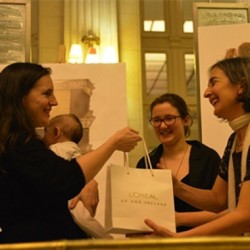 International Women's Day 2013
The name Emmeline Pankhurst is synonymous with the campaign for women in the UK to gain the right to vote. Pankhurst and her fellow suffragettes rallied support for the suffrage movement at meetings held in tearooms across the country – then the only socially acceptable place for women to gather outside the home. Inspired by the suffragettes, on International Women's Day (March 8th), Suffrage Science: 2013 celebrated the achievements of twelve leading female scientists in the tearoom of the Waldorf Hotel.
Following on from the successful
launch
of Suffrage Science in 2011, which honoured women in the life sciences, this year we highlighted women in engineering and the physical sciences related to medicine.Descendants of suffragette leader Emmeline Pankhurst, great-granddaughter Helen and her daughter Laura, presented the women with bespoke heirloom textiles in the form of bracelets. The women will soon also receive bespoke heirloom jewellery – a gesture harking back to days when handcrafted jewellery was presented to noted women of the suffrage movement.The heirlooms were designed by students at Central Saint Martins College of Art and Design. Their designs were showcased at a pop-up exhibition throughout the evening, which also saw the launch of the unique, keepsake publication
Suffrage Science: 2013
, comprising interviews with the nominated women scientists.Maggie Aderin-Pocock with the heirloom jewellery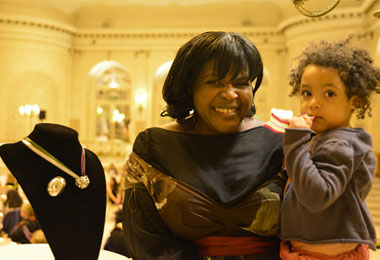 Maggie Aderin-Pocock with the heirloom jewellery
Amid tea and cakes, science writer and broadcaster, Vivienne Parry led a debate on whether Nobel prize-winning physicist Marie Curie would have made it as a woman in science today.
This years nominated women will pass on their heirloom jewellery in 2015 to the next group of excellent female scientists and communicators, in a bid to encourage them to make their way to the top.
The 12 women celebrated this year are:Professor Dame Athene Donald (Professor of Experimental Physics, University of Cambridge)
Professor Dame Julia Higgins (Emeritus Professor of Polymer Science, Imperial College London)
Professor Molly Stevens (Professor of Biomedical Materials and Regenerative Medicine, Imperial College London)
Professor Lesley Yellowlees (President of the Royal Society of Chemistry)
Professor Eileen Ingham (Professor of Medical Immunology, University of Leeds)
Dr Jennifer Nichols (Wellcome Trust-MRC Stem Cell Institute, Cambridge)
Professor Dame Sally Macintyre (Director of the MRC Social and Public Health Science Unit, Glasgow)
Professor Susan Gathercole (Director of the MRC Cognition and Brain Sciences Unit, Cambridge)
Professor Clare Elwell (Professor of Medical Physics, University College London)
Professor Petra Schwille (Director of the Max Planck Institute of Biochemistry)
Dr Maggie Aderin-Pocock (Director of Science Innovation Ltd)
Professor Kathy Skyes (Professor of Sciences and Society, University of Bristol)

For more information about the project and follow-up events, please contact Brona McVittie.
View more photos from the event below: