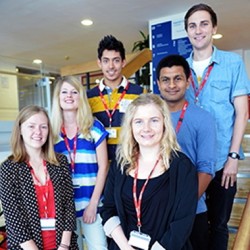 Nuffield summer students talk science
The CSC is a great institute to be associated with," claims April Hartley (Imperial College London). "Nuffield studentships are a great way to get a feel for lab research." Alex Tam (Lancaster University) agrees. "I would absolutely recommend this studentship." The feedback from Nuffield summer students speaks for itself. The CSC has a tradition of hosting interns and summer students, often through personal contacts, but since 2009 the Institute has also supported career development for bright undergraduates through the Nuffield summer studentship scheme, which gives all students the chance to undertake a supervised programme of research. Supported by a bursary, each student spends 4–8 weeks in a CSC lab. Afterwards they present project findings to early-career and senior research scientists through a student seminar.
Both university undergraduates and A-level students may apply for the scheme, the aims of which are to teach participants about scientific reasoning, laboratory methods, theoretical principles and science communication. The students can choose an area of interest whether biochemistry, cell biology, genetics, imaging, molecular biology or protein chemistry. For many, the scheme is their first experience of lab life. "At first I was panicking, thinking they were going to ask me to do all these techniques that I've never tried before, says April, "but they were great. They showed me how to do everything."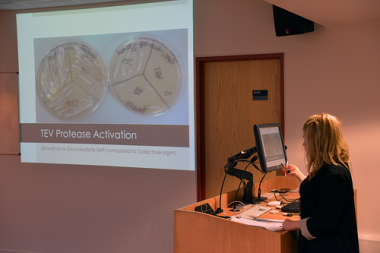 April Hartley (Imperial College London) presenting at the seminar.
A-level student Serken Cakir (Poole School, Dorset) undertook a placement in James Leiper's lab (Nitric Oxide Signalling Group) with supervision from Konstantinos Vanezis, a PhD student in the lab. "The team is trying to determine how a nitric oxide inhibitor affects the way stem cells differentiate into heart muscle cells," says Serken. "It's exciting because it could lead to new treatments for heart conditions and other disorders." The experience has encouraged Serken to apply for biomedical courses this year.
"This has given me a realistic outlook on working life in a lab," says Alex Tam. "I've worked with a lot of great people and they are encouraging me to come back." He worked with David Rueda (Head, Single Molecule Imaging Group). "I looked at RNA imaging of single cells and helped design a reporter gene to image these cells," says Alex. "My experiments really mattered, I wasn't just stuck cleaning beakers."
The CSC looks forward to receiving applications for next year's studentships from March 2014. The scheme is playing an important role in helping A-level and undergraduate students to set their sights on future research possibilities.
To learn more about the Nuffield summer studentships click here. Read more about what the students did on the CSC blog.
List of students:
April Hartley (Cell cycle- Luis Aragon), Daisy Luff & Alexander Holsgrove (Cellular Stress- David Carling), Rakesh Dodhia (Neurophysiology- Mark Ungless), Sarah Martin (Molecular imaging- Jimmy Bell),
Alex Tam (Single Molecule Imaging Group- David Reuda).
MT