Over the past few years, more and more attention has been devoted to mental health at Higher Education institutions. Statistically, one in three people will suffer from a mental health disorder at some point in their life (1). However, there are certain groups in society that are at higher risk of experiencing psychological distress than others, and one of those is doctoral students. A 2018 US study showed that PhD students were more than six times as likely to suffer from depression or anxiety compared to the general population (2). But the poor mental health of academics has received even less attention where one recent survey found that 43% of academic staff exhibited symptoms of at least a mild mental disorder (3). These high levels of poor mental health not only affect whether students finish their degrees, as well as teaching and research quality, but personal lives too. So, having the option of speaking to a mental health first aider is an option of well-being support that many people are comfortable with. As today is World Mental Health Day, we spoke to one of our Mental Health First Aiders to learn more about what the role involves and what support can be offered in the hope that more of our academics and those across other institutes have more support.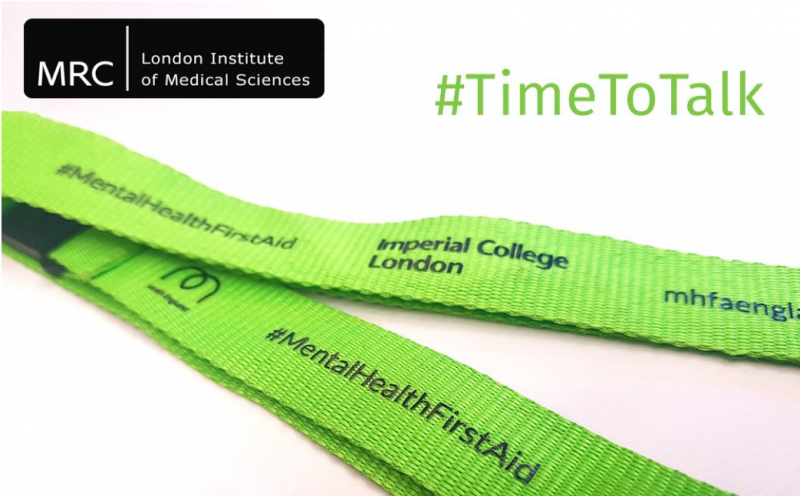 What motivated you to become a Mental Health First Aider (MHFA)?
It wasn't a conscious choice really for me. I didn't quite realise what I was volunteering for and just wanted to go along for my own self-interest really. I didn't think anyone would ever see me on that level as I wasn't qualified in anything and I didn't really take it seriously until the first person I spoke to pulled me aside and asked to speak to me within my role as a MHFA. I was very surprised so many people actually wanted to speak to me and it has become something I find quite rewarding by being that listening ear for someone who needs it.
What was the take home message from the MHFA course that you did?
I don't think I can stress enough that MFHAs are not qualified to give advice. It is our role to just be that listening ear and to direct people to where they need to go, and only ever intervene if there was a serious chance of an individual injuring themselves. It is also essential to be subtle about it and respect someone's privacy and their trust in you. One of the challenges of this is that if you are spotted wearing a green lanyard and having a chat with someone knew, you are already not being as discrete as you could be. It is important to always follow up with someone after they have spoken to you too.
What is the most rewarding thing about being a MHFA?
It is great to feel like you're helping people. It is great to see the progression from when they first came to speak to you to where they are now and the hope that things have improved. You do always hope that someone can come to you before it becomes too bad and turns into a more serious issue, but knowing that someone feels like they can approach you and open up to you is really great. Then it is just a matter of spending time to be a listening ear and hoping that helps them.
What sort of person should become a MHFA?
Someone who can be discrete as I've mentioned before. You have to be kind, caring and compassionate because that person has to feel comfortable opening up to you about issues that could be quite tricky for them. Someone who is a good listener, and someone that is still very aware of the situation and being involved in case things get worse, whilst also staying removed and not being too nosey.
What advice do you have for others considering becoming a MHFA?
I keep saying it but you really need to know how to be discrete and keep what an individual may share with you confidential. They need to know that they can trust you. But the course is really interesting and worthwhile as you never know when it may be useful. It gives you an insight into the other side and you start to get an idea of why people respond in the way they. It is one of the best courses I have been on but always remember that this course still doesn't qualify you to give advice, so you need to watch that.
What would your advice be to someone who thinks they could have a mental health issue?
Always, always talk to somebody and seek help. If you think you have an issue, you probably do and the first step is admitting that to yourself. It might not be a serious issue, but recognising it is half way to fixing it. So, find someone you are comfortable sharing with and allow them to just be a listening ear and a figure of support for you. Beyond the initial stages, you would probably need to seek professional advice, but you have to want to do it yourself. MFHAs can only recommend and direct and encourage you to help yourself.
If you are thinking about becoming a Mental Health First Aider, you can find out more information about the course here.
For our MRC LMS colleagues, below is a list of our current Mental Health First Aiders you can reach out to. Also, remember that you are entitled to 6 free sessions of counselling over the phone too – find out more info about that from HR.
| | |
| --- | --- |
| Contact | Email |
| Winston Luke | winston.luke@lms.mrc.ac.uk |
| Sam Marguerat | samuel.marguerat@lms.mrc.ac.uk |
| Angela Woods | |
| Rebeca Fiadeiro | |
| Laura Martin Coll | |
| Ivan Andrew | |
| James Elliott | |
| Elaine Irvine | |
| Dounia–zede Djeghloul | |
| Christopher Studd | |
| Vanda Nanias | |
References
Kessler RC, Berglund P, Demler O, Jin R, Merikangas KR, Walters EE. (2005). Lifetime Prevalence and Age-of-Onset Distributions of DSM-IV Disorders in the National Comorbidity Survey Replication, Arch Gen Psychiatry, 62(6): 593-602
Evans TM, Bira L, Gastelum JB, Weiss LT, Vanderford NL. (2018). Evidence for a mental health crisis in graduate education, 36, 282-284
Gorczynski PF, Hill D, Rathod S. (2017). Examining the Construct Validity of the Transtheoretical Model to Structure Workplace Physical Activity Interventions to Improve Mental Health in Academic Staff. EMS Community Med J, 1(1)