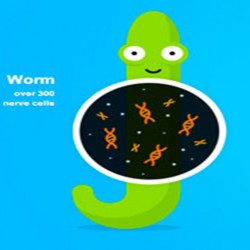 Citizen scientists helped CSC researchers make more than 150,000 classifications as part of Worm Watch Lab during British Science Week in March.
Worm Watch Lab is an on-going citizen science project created in association with the Medical Research Council that asks members of the public to track the egg-laying behaviour of nematode worms by watching short video clips.
Tracking the egg-laying behaviour of these microscopic worms enables the scientists to understand how the brain works and how genes affect behaviour. If a gene is involved in a visible behaviour, then mutations that delete that gene might lead to detectable behavioural changes.
What the team thought might be an ambitious target of 100,000 classifications across the British Science Week was in fact smashed by enthusiastic citizen scientists on the second day. The equivalent number of classifications being done by one reseacher would have taken an exhausting 50 days of non-stop watching.
André Brown, leader of the CSC's Behavioural Genomics Group, says, "We are staggered with the response to the British Science Week challenge as we received more than 150,000 classifications. It is testament to the importance of involving lots of peolpe in helping scientists classify huge quantities of data. It has been an enormous success."
"And we're not done yet. Without the help of citizen scientists, this would have been a task so daunting that we probably would never have analysed the data so thoroughly," he adds.
The project continues to benefit from eager contributors keen to watch the 30-second videos and record the worms' egg-laying antics. In total, the scientists have amassed more than 500,000 classifications from about 10,500 contributors.
Worm Watch Lab is conducted in collaboration with Zooniverse, a pioneer in online citizen science and home of the world's largest and most popular citizen science projects.
Yehiya Abdullah, a year 9 student from King Solomon Academy, contributed to this news piece as part of his 2-day-placement with the CSC Public Engagement team.