On Wednesday 24th March, 2021, Imperial College London's Graduate School virtually held their annual Science Communication Competition. The aim of the competition is to provide postgraduate students from all disciplines the opportunity to develop and showcase their skills in four areas of communication (the 4Cs): Creativity, Content, Clarity and Charisma.
We're delighted to share the news that Chiara Pojani (pictured below), a first year PhD student in the Metabolic Signalling Group at the LMS, was awarded joint third place at this year's presentation competition.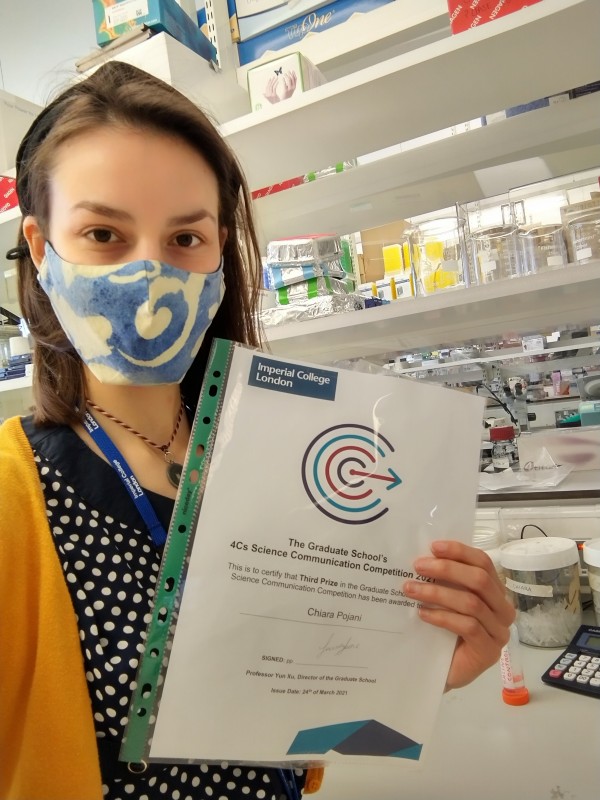 Congratulations Chiara! Could you tell us about your competition presentation 'Understanding the role of high-fat diet in feeding'?
As the title suggests, my research is focussed on the effects of diets rich in fatty food on brain activity and behaviour. I felt it would be an appropriate topic for a lay audience. The idea was to make it sound compelling and have the audience relate to the scenario described. I mean, have you ever wondered how much fatty food we introduce every day in our bodies through our diet? Unfortunately, regardless of weight gain, high-fat feeding can alter neuronal activity, shifting food selection towards fatty food in a sort of vicious circle.
How did you prepare for the competition?
I contemplated different "delivery options" before I thought I could exploit my stage experience. Given the topic of my presentation, I eventually came up with the idea of setting a brief sketch in my kitchen, pretending to be in a baking show. I talked the audience through the effects of high-fat food on the body and the brain while pretending to be baking biscuits. The limit of 3 minutes was hard to get around, though, so I rehearsed, rehearsed, and rehearsed.
What inspired you to take part in the competition?
I have always been keen on science communication. I believe it is of utmost importance to spread the word of science to try to stem the tide of disinformation and to find the right way to do it. The aim of the competition was to provide postgraduate students with the chance to communicate their research in a creative way. I think creativity is the best way to target and reach a broader audience when it comes to science communication. So, I just accepted the challenge and took the chance to prove myself. Also, I thought it would be a nice way to be engaged with the Institute.
What advice would you give to someone wanting to take part in the competition in the future?
I recommend exploring creative ways of delivering your presentation. And do not forget to recruit as many friends as possible to vote for you! You could win the People's Choice Award.
What have been your experiences of starting your PhD during the Covid-19 pandemic?
As you can imagine, I got off to a slow start, both in terms of work and social life. I had found it difficult to get the chance to bump into people at the beginning. Also, working with animals, it had taken a while before being actually able to carry out experiments. Things seem to be finally looking up now, thanks to the enormous help of my research group.
What are you looking forward to most as restrictions are eased, and more of the LMS returns to site?
First and foremost, I cannot wait to be able to travel again and explore the world (PhD permitting)! I have a trip to Japan on hold… Also, as a fitness freak, I am longing for the gyms to reopen soon to finally give my muscles a pump. Last but not least, I really miss social interactions and being able to meet new people.