The LMS is an interdisciplinary research environment where scientists and clinicians collaborate to advance the understanding of biology and its application to medicine. There are two research sections and cross-cutting themes which are all underpinned by translation, clinical impact and our commitment to training the next generation of leading clinical and non-clinical scientists.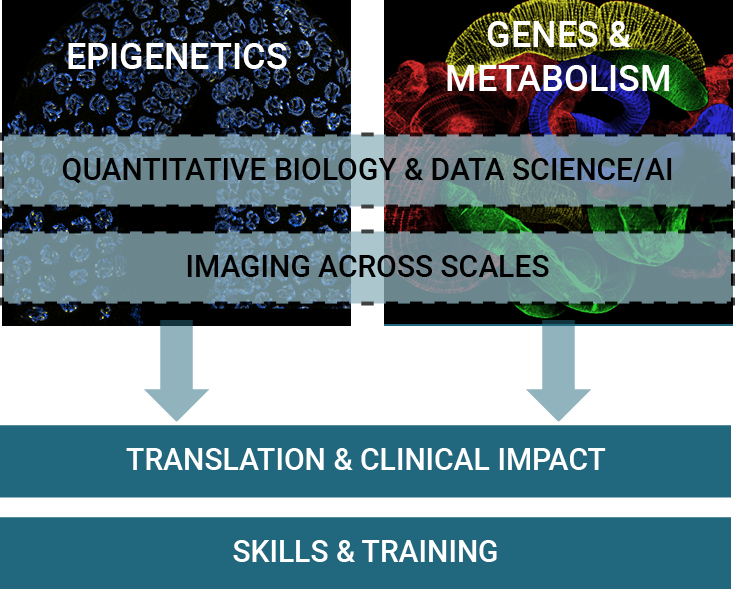 Our research sections are led by Petra Hajkova (Epigenetics) and Dominic Withers (Genes & Metabolism) and aim to address major health challenges (such as obesity, diabetes, heart disease and cancer), investigate the interplay between genes and environment, and understand the molecular basis of disease, development and ageing.
The LMS pursues world-leading discovery science with a particular emphasis on interdisciplinary approaches. Our cross-cutting themes enable us to do this through collaboration with colleagues across the Faculties of Engineering, Natural Sciences and Medicine at Imperial College London and others.
The cross-cutting themes are:
Translation and clinical impact is led by Stuart Cook and Jesus Gil. Skills and training at the LMS are led by Enrique Martinez Perez (non-clinical) and Dominic Withers (clinical). In addition to our core PhD programme we run the flagship Chain-Florey clinical research scheme, which has been enabling clinical academics since 2009.