By Sofia Velazquez Pimentel & Isabella Giokari 
The Laboratory of Medical Sciences (LMS) recently hosted a successful postdoc retreat, organised by the LMS Postdoc Committee, which aimed to promote networking, career development, and community building among the researchers.
The retreat took place at Bounce Farringdon, a youthful bar with ping pong tables, where LMS postdocs, GECo – the LMS communications team, and other keynote speakers gathered for a day filled with inspiring career talks, science speed dates, quizzes, and plenty of ping pong.
The science and career speed dating session kicked off the event, allowing each postdoc to talk about their research and hear from others. This was followed by a CV workshop by Dr Ines Perpeuto from the Imperial Postdoc and Fellows Development Centre, empowering postdocs to reflect on their wide range of skills and experience as highly trained researchers.
After a delightful lunch and coffee break, the group was treated to presentations from former postdocs who pursued careers in industry and academia. These presentations were followed by breakout sessions where postdocs discussed each speaker's experience, fostering valuable networking opportunities and knowledge sharing.
External speakers included Dr Aloia from AstraZeneca, Dr Kocsis from Roche, Dr Theofel from GSK, and Dr Martinez- Sanchez from Imperial College, Dr Salako from Start Codon & Dr Ferrini a freelance medical writer. Sofia Velazquez Pimentel and Dr Lindsay Keith from the Grants, Engagement, Communication and Outreach team (GECo) also presented a talk on the powerful use of engaging the public with their research through engagement, outreach, and social media. They also discussed the exciting possibilities that lie ahead for the LMS under new leadership, a new strategy, and a brand-new facility.
The retreat ended with ping pong, quizzes, bingo, and drinks, building a strong sense of community and supporting postdocs in their career development.
"Our invited external speakers were excellent, providing valuable insight into their career journeys and diverse networking opportunities. These events have long-lasting positive effects – as more postdocs know each other now – from having more people to say hello to, to sharing knowledge and knowing who to contact for specific skills within the institute!"
– Dr Alice Francis, the LMS roving researcher, Postdoc Committee Member and one of the event organiser
"We really wanted to organise a day filled with opportunities for postdocs to interact and meet each other. I especially enjoyed seeing everyone participating in our science speed-dating and postdoc bingo activities, which were designed to encourage lots of conversations about each other's science, whilst also being a fun way to create new postdoc connections." 
– Dr Emily Doherty, LMS Postdoc Committee Member and one of the event organiser
The retreat was hailed as a huge success and a testament to the LMS Postdoc Committee's dedication to supporting postdocs in their career development and community building efforts. A huge thank you to the event organisers Dr Alice Francis, Dr Paul Chammas, Dr Emily Doherty and Dr Josh Prince. The LMS Postdoc Committee is an award winning committee who work hard create positive social and academic opportunities for the LMS postdocs and the wider LMS.
"The LMS postdoc retreat was a real blast. I enjoyed interacting with other postdocs who I hadn't met before. It was a perfect mix of activities and networking opportunities. And of course I loved the opportunity to play table tennis. A huge thanks to the LMS postdoc committee for organising such a fantastic event."
– Dr Claudia Lennicke, LMS Postdoc who attended the event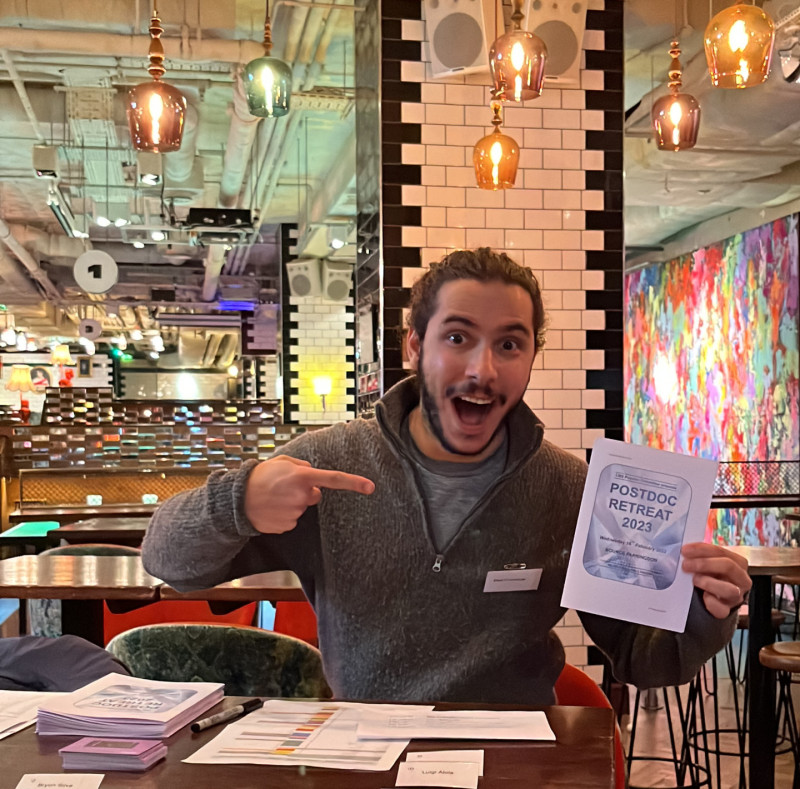 Dr Paul Chammas, LMS Postdoc Committee member and co-organiser of the Postdoc Retreat 2023.