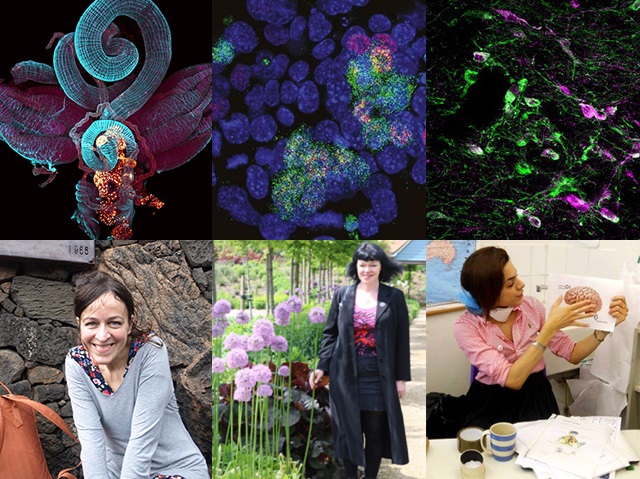 For International Women's Day, we are celebrating three female scientists from LMS who have previously featured on Biomedical Picture of the Day (BPoD): Michelle Kokkinou, Postdoctoral Research Scientist; Karen Brown, Research Associate; and Irene Miguel-Aliaga, Head of Gut Signalling and Metabolism.
This year's #IWD2018 theme is #PressforProgress, fighting for gender parity, here at MRC LMS 50% of our PhD students and postdoctoral researchers are women so we wanted to take this moment to highlight female LMS scientists from different stages of their careers, hearing what they're currently working on, the highlights of their careers and what inspired them to get into science.
Michelle Kokkinou
Michelle has just progressed to Postdoctoral Research Scientist in the Psychiatric Imaging group after defending her PhD thesis. Her work has focused on finding mechanistic explanations of how ketamine influences the brain and behaviour.
We met to discuss her career and inspiration:
What are you currently working on?
"We use a variety of in vivo imaging and chemogenetic techniques to understand how ketamine influences the brain and behaviour. Specifically, these techniques allow us to investigate whether ketamine's effects rely on the brain chemical dopamine. This work helps to provide a more comprehensive view of the neural systems underlying neuropsychiatric disorders, such as schizophrenia, substance abuse and the potential antidepressant properties of ketamine."
What is your current career highlight?
"I am really grateful for the most remarkable opportunity throughout my career so far which was to take part in the BBC2 horizon programme, 'Why Did I Go Mad?, along with my supervisor Professor Oliver Howes and discuss how an excess of the brain chemical dopamine can lead to paranoia and delusions."
What would you say to female researchers starting their PhD?
"My daily basis in the lab involves learning something new and that, to me, in addition to a collaborative attitude and a positive mental outlook is the way to live."
Karen Brown
Karen Brown is a Research Associate in the Lymphocyte Development group, working closely with LMS Director Amanda Fisher. She works on different epigenetics projects within the group researching how identical twins are formed, advising new researchers on the immunofluorescence techniques utilised in the lab.
What are you currently working on?
"I continue to work on the project discussed in the 'Hinting at Twins' BPoD post, looking into how identical twins are formed and the role of Jarid2 and gap junctions in cell-to-cell communication within the developing embryo. I am also looking into heterokarion formation between embryonic stem cells and differentiated cells in order to understand how gene expression can be reactivated, important for future attempts to reactivate genes whose silencing leads to disease."
What inspired you about science and a research career?
"I wanted to do something creative, with the ability to choose the direction of projects. Within academic institutes you get to be involved in projects from beginning to end, which I feel is quite unique and wouldn't be possible if I'd gone into industry and had to narrow down to working on one part of the research process."
What's been the highlight of your career so far?
"During my D.Phil I developed a way of looking at proteins and genes at the same time within the mammalian nucleus, something that had previously not been possible. The aim then was to look at the efficiency of segregation of artificial chromosomes on the mitotic spindle. On joining the LMS this method proved useful for looking at the relationship between the location of genes within the nucleus and their state of activation, and is why I focused on microscopy during my career."
Irene Miguel-Aliaga
Irene Miguel-Aliaga is Head of Gut Signalling and Metabolism and is particularly interested in cellular and organ plasticity. Her research group studies how organs sense and respond to change, on a molecular, cellular and physiological level, primarily looking at fly intestines and associated neurons.
What are you currently working on?
"We are keen to understand how cells and even whole organs adapt to challenges, and how these adaptations shape our physiology. For example, we recently discovered that digestive systems 'know their sex' – there are male and female versions of the digestive system. The sexual identity of the intestine is physiologically important; it allows the female intestine to resize and change how it functions when it is critically needed – namely, during reproduction. We speculate that this bigger and 'reprogrammed' intestine may help females cope with the additional nutritional demands posed by reproduction"
What inspired you about science?
"I have always been an explorer, I love venturing outside, experimenting with the world and attempting to understand nature. I have a taste for the unexpected and I love to be surprised, so I don't find negative results disappointing – which is a good thing in science as we get many of those!"
What tip could you give to other researchers starting out in their career/other female researchers?
"Science should be fun, find what you enjoy about science and work to pursue your own interests and passions, this will help you stay motivated throughout your career."
BPoD stands for Biomedical Picture of the Day, it offers a daily intriguing image that aims to engage everyone, young and old, in the wonders of biomedicine. Images are kindly provided for inclusion on this website through the generosity of scientists across the globe. Check out BPoD for daily inspiration.