On 3 May, the Development working group from the Institute Athena SWAN opportunities committee held their first Facilities Information event at MRC LMS, kicking off a series of career development events that will take place this coming year.
The aim of the first event was to share information and build knowledge on how to develop expertise and to highlight the different avenues to accomplish this. The day allowed us to hear about the ways that other institutes and organisations support their staff and how these could be adopted with speakers from the Science Council, MRC Harwell, Imperial College London, the MRC and MRC LMS itself.
Dr Jenna Stevens-Smith, Head of Communications and Engagement, MRC LMS, facilitated the day, beginning by explaining how the "research support staff and technical roles are integrally important to the MRC and that without them the MRC's overarching aim, to produce high quality research, couldn't happen." Jenna shared statistics from our recent facilities staff survey, (see right), the data collected in the survey being the catalyst to this event series, and took us through her personal career journey, from PhD in Bioengineering to public engagement and communications orientated roles.
We then heard from Tracey Dickens, Project Officer for the Technician Commitment, Science Council UK, who discussed the Technician Commitment, a professional accreditation with the aim of "Ensuring Status, Profile & Opportunity for Technicians in Higher Education & Research," developed to address key issues affecting the technical community: Visibility, Recognition, Career Development, Sustainability and Evaluating Impact. Tracey shared her energy and passion towards technicians owning their role and knowing that they are "not just the technician anymore," this mimicked the feeling of the room and the need to celebrate technicians as the heroes they are. Tracey provided an overview of what it means to become a signatory and how the process works both for the organisations and for technicians, discussing guidelines, support and funding.
Next, we gained insight into the experience of piloting the Technician Commitment and encouraging Professional Registration in a similar institute. Dr Tertius Hough, Pathology Operations Manager at MRC Harwell Institute, gave us an overview of the work at Harwell and discussed how the skills of technical support staff can vary greatly but always have some overlap (see diagram below).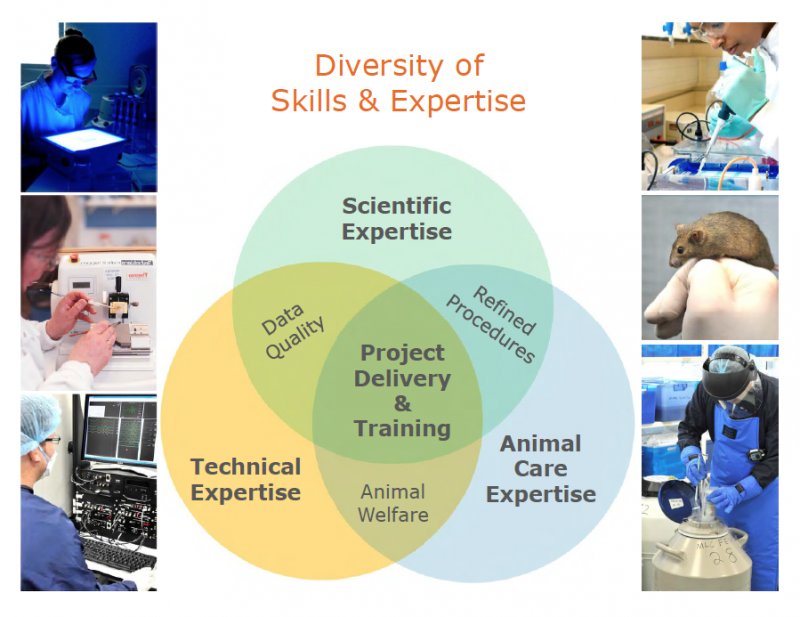 He shared the 'buy-in' their institute had from their Director, Dr Sara Wells, who started her career as a technician and is an advocate for technical skills stating that without them she couldn't be Director of MRC Harwell. Tertius shared what it takes to start and finish the accreditation and signatory process, stating that "regardless of whether some people thought it was a good thing or not it was just good that it initiated discussions and also opened up the world to technicians in terms of networks and events that could be of benefit to them or could allow them to meet people in similar situations." He believes that a massive benefit of the Technician Commitment and Professional Registration is that unlike other formal courses it requires periodic evidence of the maintenance and continued learning and developing of technical support staff and that being able to showcase this is great for future career prospects.
Tertius was followed by Allison Hunter, Technical Operations Manager, Department of Life Sciences, Imperial College London. Allison highlighted how she helped to build the confidence of her staff, providing writing and presentation training and getting technicians to present to each other. Along with providing advice and support Allison has been integral in the growing recognition of technicians at Imperial and has developed resources and documents with links and best practice examples such as powerful action words to use when discussing experience.
Allison was followed by talks from three MRC LMS Facilities staff: Gopuraja Dharmalingam, Senior Bioinformatician; James Elliott, Head of Flow Cytometry; and Dirk Dormann, Head of Microscopy, who provided insight into the greatly varied careers of technical support staff and how international the roles are. All three providing their personal opinions on difficulties that technical staff can face and how to solve some of the problems that may arise.
To finish up the talks we heard from Julie Williams, Organisational Development, MRC who provided the MRC's stance on technical support staff and the Technician Commitment. Julie made it clear that they "want to ensure all employees of the MRC are able to access all the training and development opportunities that are needed," she discussed the role the MRC can play in helping fund the Technician Commitment and in also finding bespoke development opportunities. She suggested the potential to do a joint MRC event later in the year aiming to build and strengthen technical networks both within and between the Institutes.
The event ended with a panel discussion allowing questions to be posed to all of the above speakers. There were three clear action points coming out of this: the need for an MRC LMS 'Technical Interest Group', sharing the information from the event via the MRC LMS intranet and progressing discussions with fellow MRC Institutes Harwell and LMB for a joint event later in the year.
To find out more about the work of the Development Working Group and the development opportunities available to facilities and other research support staff here at MRC LMS contact one of the key organisers of this event: Gabriela Ahmadi-Assalemi, Head of Computing, Ivan Andrew, Research Assistant/Lab Manager, Genomics Facility, and Dr Jenna Stevens-Smith, GECo.
Top tips/takeaways
Have a look at professional registration, professional memberships, professional networks, development programmes and training courses.
There are always different routes you can take and frequently reflecting and goal setting will help to clarify your own personal development needs and career direction.
Developing a support group of technical staff going through the process so that they can discuss their experiences and how to evidence them is very useful and helps people feel valued in their role and see where they fit in to the wider organisation
When setting up a group/scheme it's good to get key people to be ambassadors, helping both keep enthusiasm motivation up with other members as well as advocating to those not currently on the scheme/in the group
Record any professional development in your calendars so that when it comes to writing up for an appraisal or review meeting, a quick skim through your calendar can provide lots of the necessary information.
Look at writing competency-based CVs as they often help to showcase the full extent of expertise in support roles.