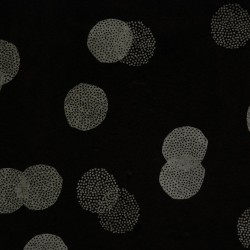 Textile designers meet Nobel Prize winners
What happens when they meet? A series of scientifically inspired textiles collections and site-specific installations, showcased at Saint James's Park as part of the London Institute of Contemporary Arts Nobel Textiles exhibition series.
Nobel Textiles was a project involving a two year collaboration between Central Saint Martins College of Art & Design and the Medical Research Council, pairing 5 Nobel Prize winning scientists with 5 designers.
Both science and design play a role in redefining our relationships with each other and the world around us. This exhibition explored creative overlaps in science and design, evoking new meaning and enriching culture.
The project pioneers, Amanda Fisher (MRC) and Carole Collet (CSM), explained: "Designers fundamentally shape the way we live, while science pervades the very fabric of our lives. Nobel Textiles involves a journey into the interface between science and design, a dialogue between leading researchers in both fields".
The project has now entered a new phase: 'Nobelini' – click here for more details …